Splintered massing is how builder John Atwood of Atwood Custom Homes describes the architectural layout of this house. "When you build a single-story house and you spread it out, you got masses that are splintered throughout," Atwood explains. The home's entryway is a 700-square-foot hall with large, 10-foot-tall windows overlooking the pool. On either side of the wide, atrium-style entry are what amount to wings — with the west wing containing the master and two additional bedrooms, and the east wing containing the kitchen and entertainment areas.
"That's what I wanted to create," Atwood says. "Was that open field, nothing closed in. Not your normal walk-in dining room on your left, study on your right, kitchen right ahead of you. We wanted to splinter it up a little bit."
Despite being a single-story home bookended by a couple of two-story houses, the home is far from dwarfed — it still measures at 6,000 square feet with five bedrooms, seven baths, and two garages. While the lack of multiple stories is what will immediately stand out as the home's key differentiator, other clever design elements make the home a unique addition to Fort Worth Magazine's Dream Street. The wide footprint, which Atwood says was dictated by the shape of the lot, coupled with the natural wood entry doors and symmetrical lines throughout give the home a modern yet natural aesthetic that makes it stand out from the pack.
In addition, Atwood says the home's design should attract those more interested in practical living.
"We chose to go the route of more timeless and comfortable living," Atwood says. "I think most of the people coming through here are going to be the older people that say, 'Hey, I could see myself living in this house.' We didn't go for gimmicky. We didn't go for what's new and faddish and what's Las Vegas."
The home, which was purchased before completion, also includes some additions from the owner that Atwood says greatly enhanced the livability of the house. These include a wood-fire grilling station that would make any barbecue connoisseur drool and a motorized pool cover.
"Being that we sold it early, I had a homeowner come in, and I showed him the ideas that I wanted to do," Atwood says. "And then he kept one-upping me."
---
Floor Plans
The home: Being built by Jon Atwood of Atwood Custom Homes, this is the only one-story among the Dream Street trio. The home is 6,000 square feet, with five bedrooms, seven baths, two wings, two garages, and multiple outdoor spaces, including a pool. The second wing contains the master suite. Atwood, who built the magazine's 2015 Dream Home at Southlake's Carillon development, listed the home at $3.2 million, and the home was sold before completion.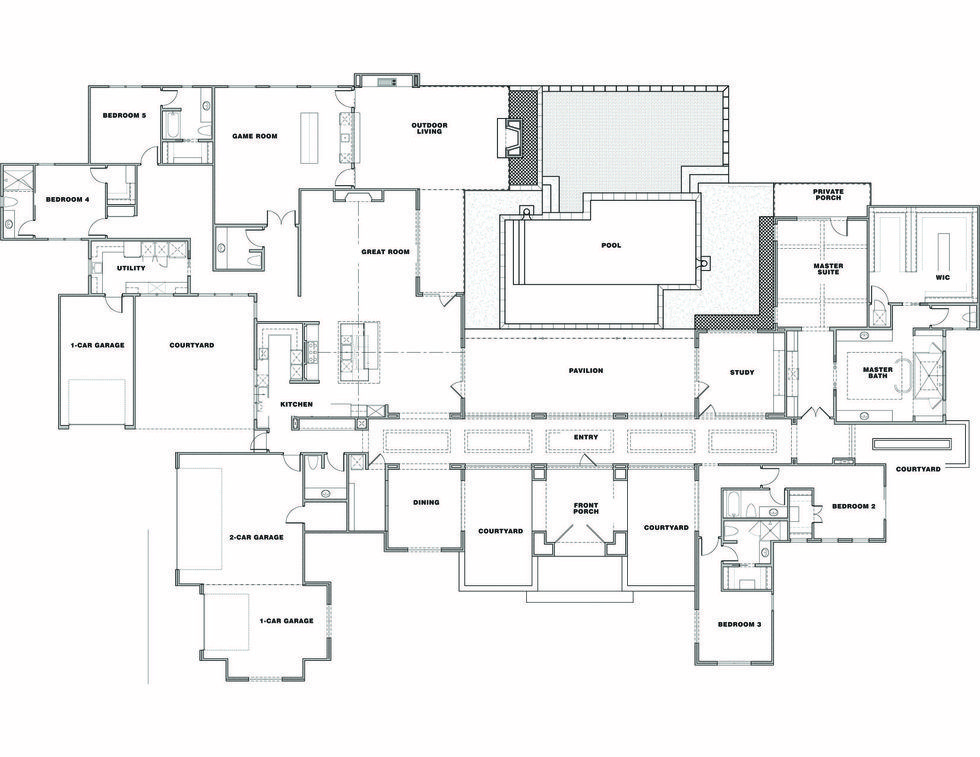 The Designer: Jon Bolton of J. Bolton & Associates of Southlake has been in business for more than 30 years. Bolton will design a home custom, and he also has an extensive library of predesigned plans. He touts his plans as "soulful, timeless living solutions," which he achieves "through a combination of artful, practical design and meeting the desires and needs of the homeowner." His philosophy: "We believe that each home should be an elegant statement of individuality as unique as the people who dwell within."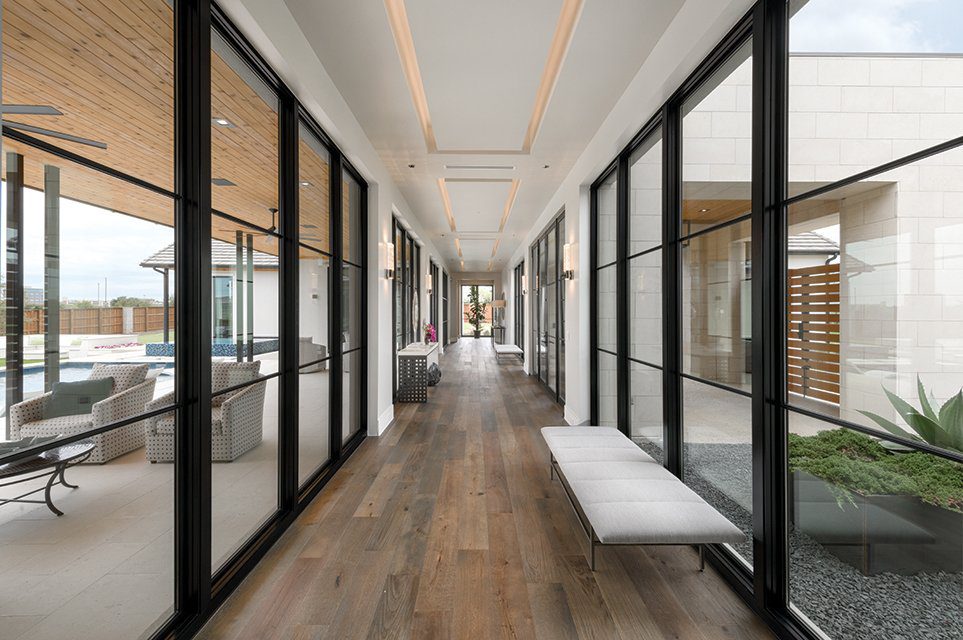 The atrium feel to the entry way, a 100-foot-long hallway, serves as the home's trademark design element. With wings shooting off the east and west ends of the house, designer Dorian Stacy was careful to make sure things remained simple. "They wanted this area to be nice and open and to feel like a retreat," Stacy says. "We wanted to be sure that we weren't putting anything in here that would block the beautiful pool in the backyard."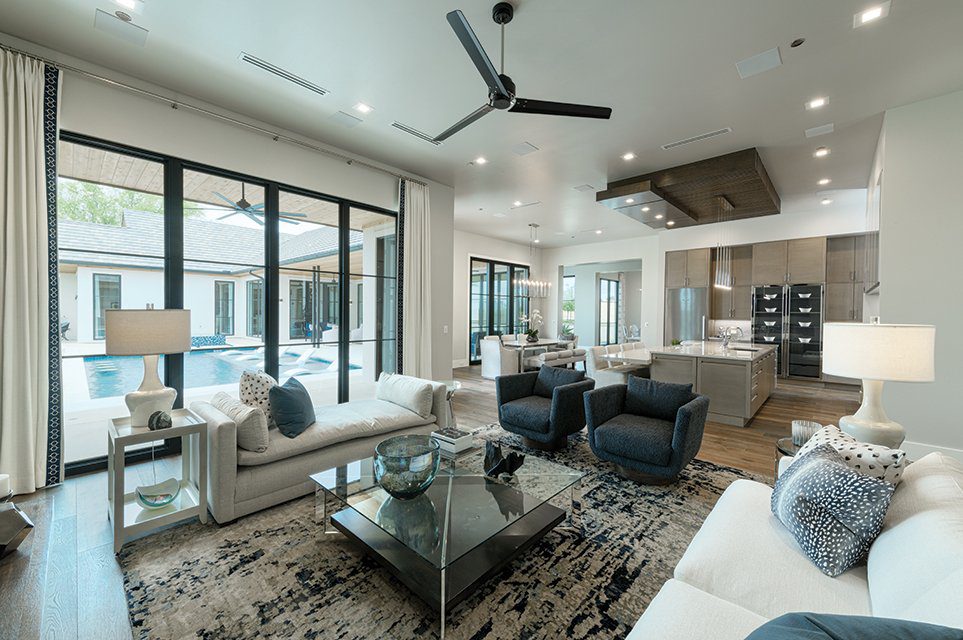 Despite the fabrics on the sofa being light, they're made to be used. "They don't scare me because they're performance fabrics," Stacy says. "So, they're made to be enjoyed and not feared. And I love the way that the table brought in the wood."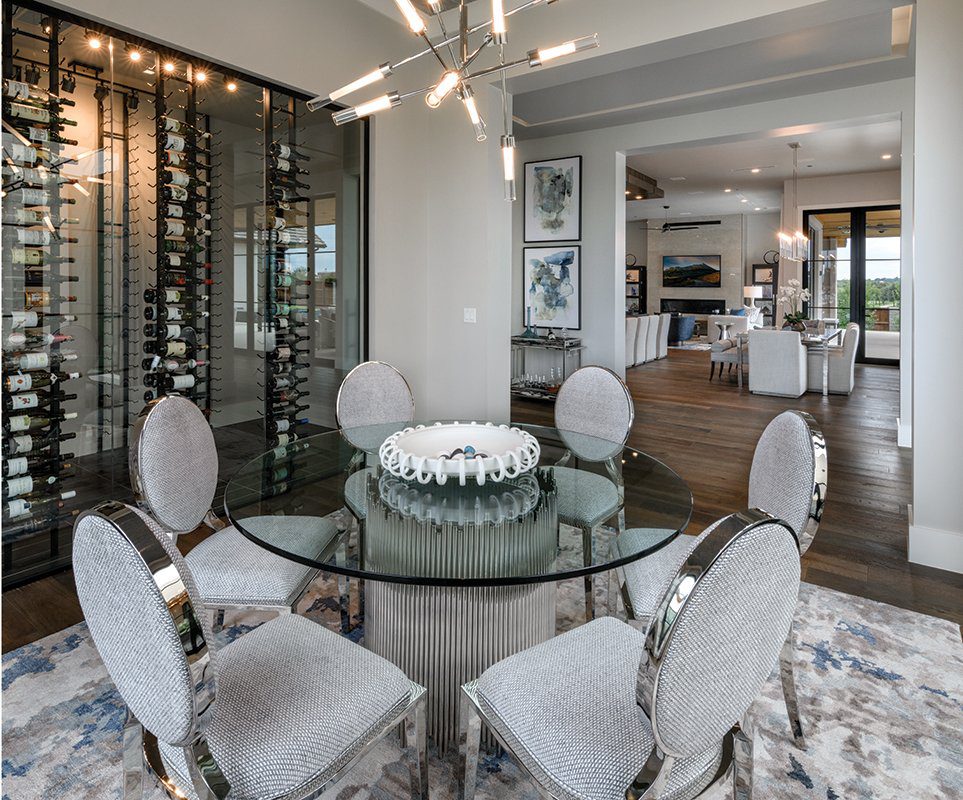 Speaking about the dining room, Stacy says "the custom cut rug to fit in the square room turned out great. And when paired with the round of the chairs and the table, it has a nice formal effect."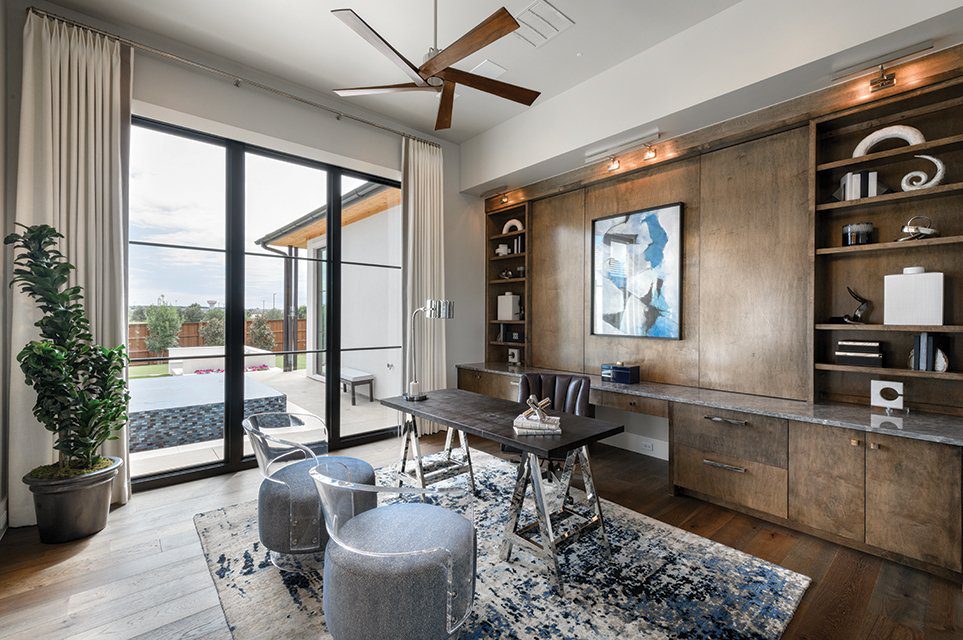 The office's highlights include an alligator-skin desk to give the room texture without overpowering the other elements in the room.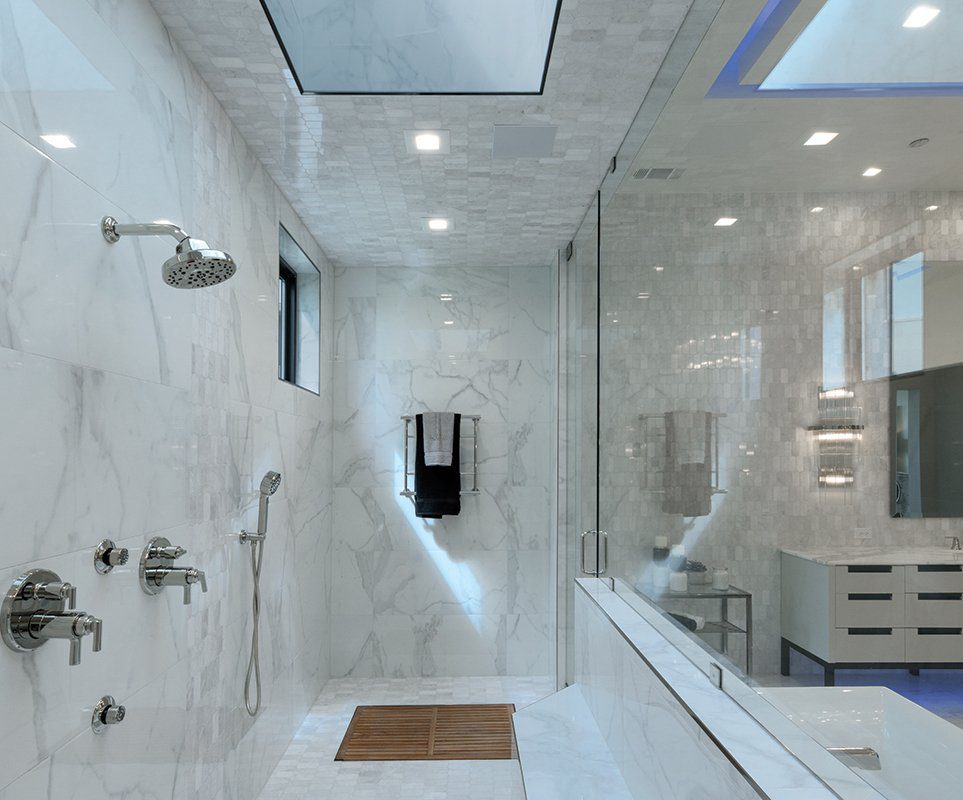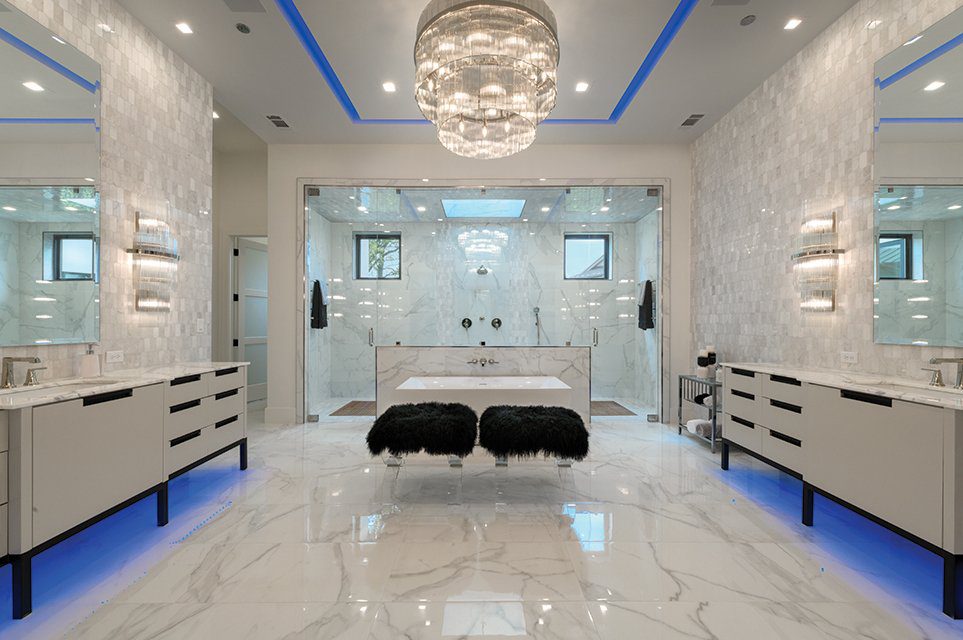 "The master bathroom is supposed to be like a spa," Atwood says. "And for more natural light, we did a shower head up in the skylight, so you've got the rain effect." The tile-heavy bathroom includes blue recessed lighting and a giant chandelier. The master bedroom itself, as Stacy describes it, is like the owners' own little haven. "You've got mixed wood, metal, the glass touches," Stacy says. "They kind of give it just a homey feeling in what could be a much more sterile spot."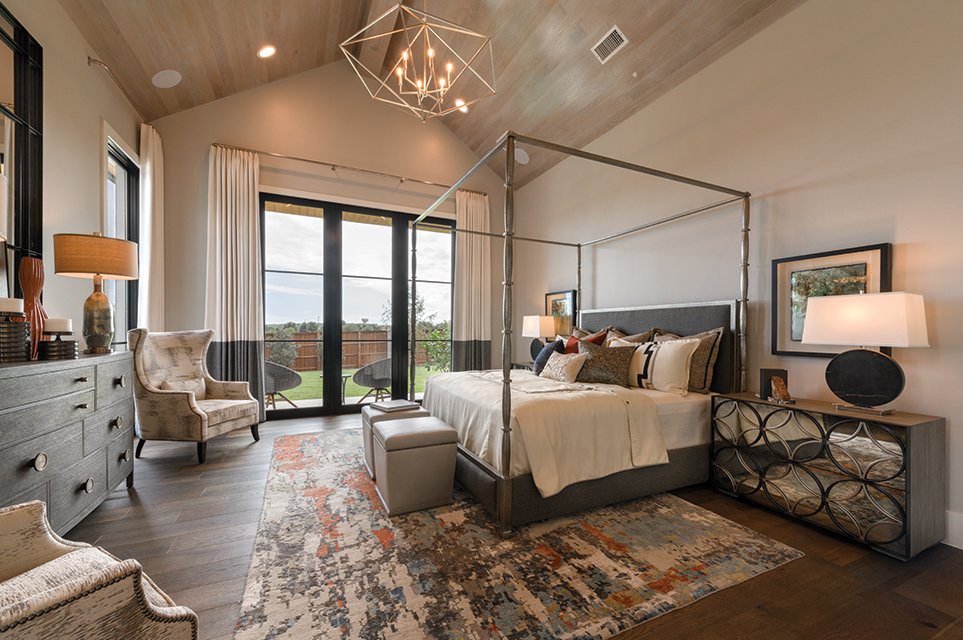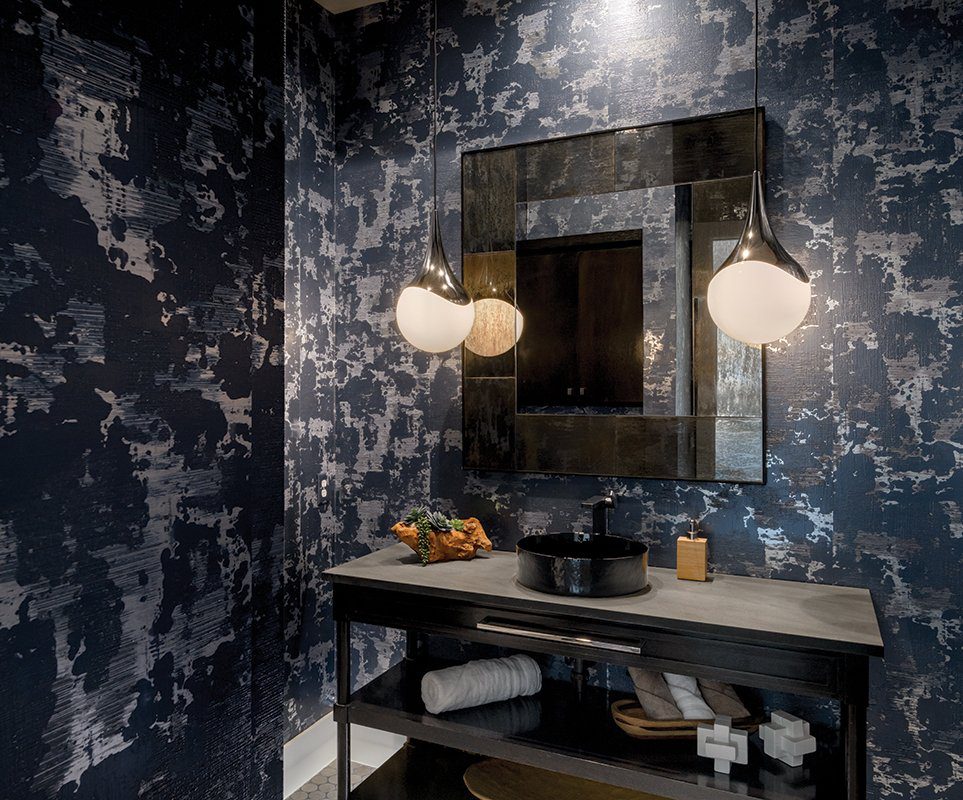 Touches of blue dominate the interior decor of the house. "This allowed us to have more colors to play off of it," Stacy says. "So you occasionally see some warmer rust colors and things like that that are still timeless."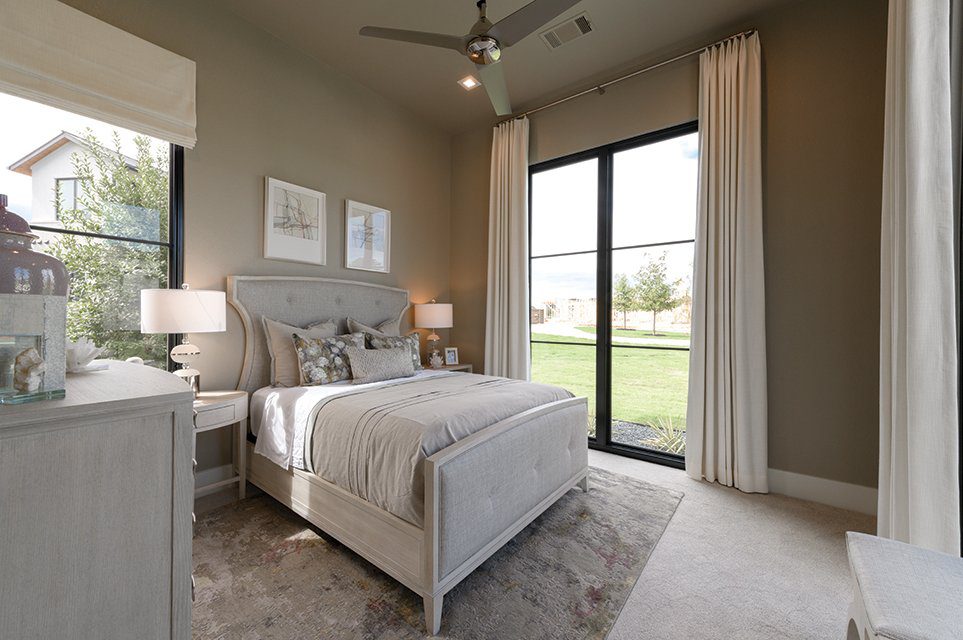 "You've got these beautiful windows so you work around the space that you need," Stacy says. "And if somebody is actually living in this room then you still have functionality with the dresser space."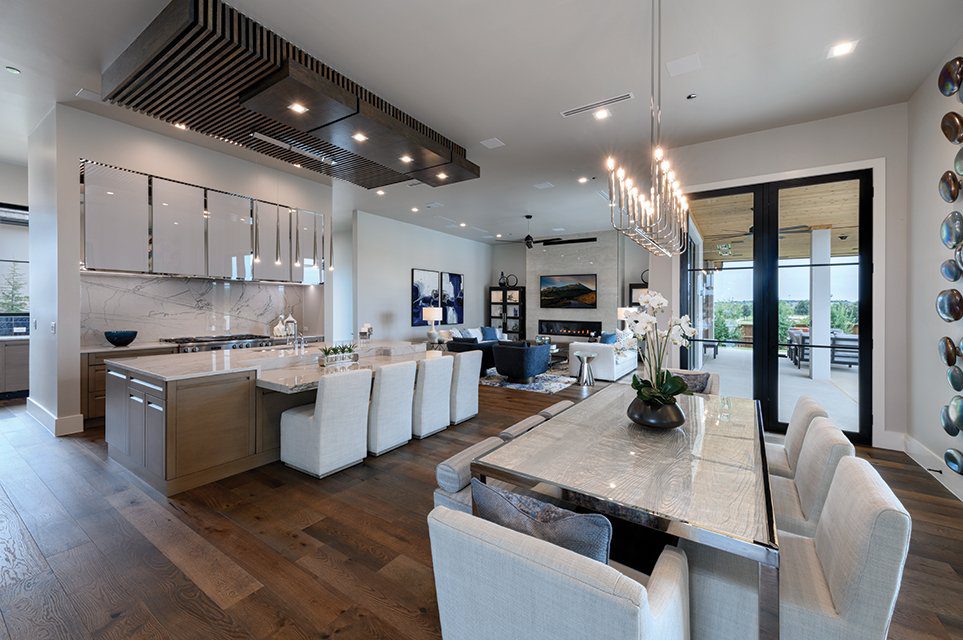 The three dining areas within conversation of each other creates a non-siloed eating experience for Thanksgiving and Christmas dinners. "You could have food and family here, food and family here, and food and family here, right in the kitchen," Atwood says. Another design quirk is the large wooden lighting fixture, which is an inversion of the kitchen island.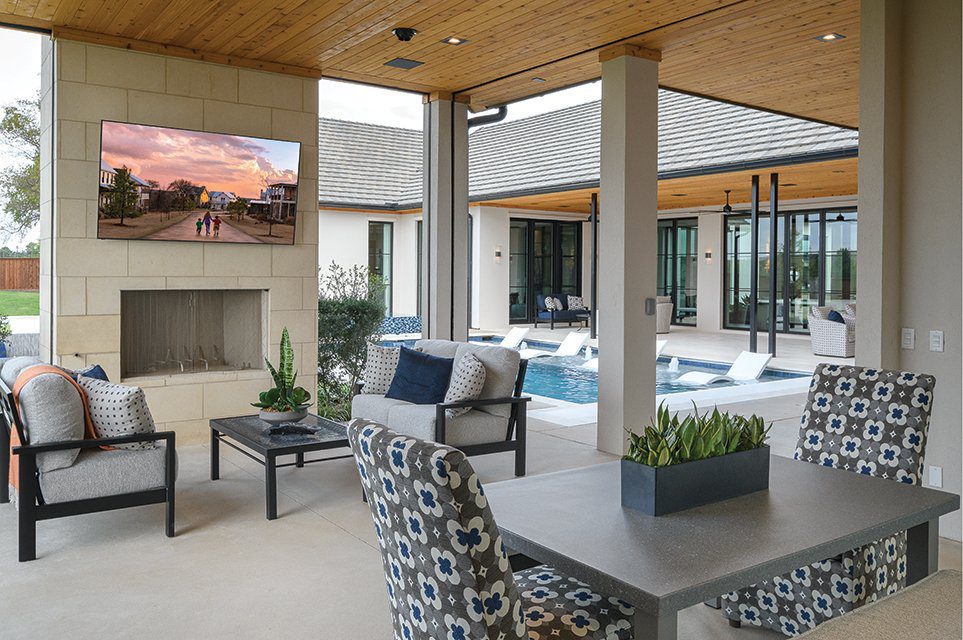 The outdoor living area, which comes complete with a fireplace and flat screen TV, can also be entirely heated or air-conditioned, depending on the season. Shutters fall between the pillars, cutting the space off from the outside. And the area uses fans, misters, and heaters to ensure guests are at a comfy temperature.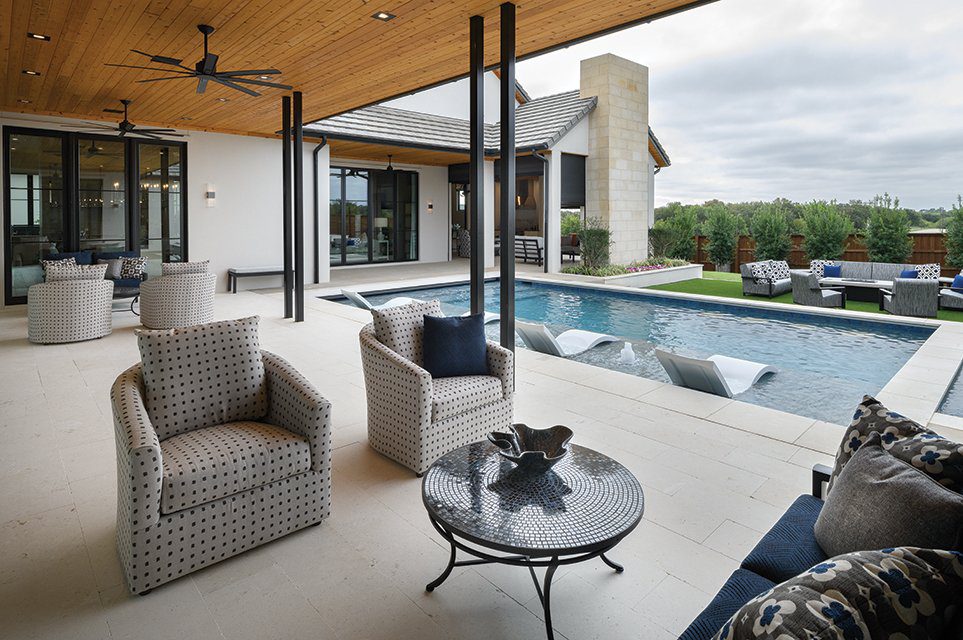 Two subcontractors, including a steel worker and hydraulic company, were brought in to complete the bar's partition, which opens and closes via remote control. Making convenience and practicality a priority, the pool features a mechanical sliding pool cover, which will greatly decrease the area's required maintenance.
---
Builders/Designers
The Builder: John Atwood  Atwood Custom Homes
It was 2015 when John Atwood of Atwood Custom Homes participated in the Fort Worth Magazine's signature Dream Home project — a Spanish-inspired hacienda in Southlake's Carillon development. Coming back for a second round, it's clear Atwood was highly involved in the floor plan, architecture, and layout of his 2020 home — even designing the pool himself. The large entryway, symmetrical design, gigantic windows, and selection of tile were all his doing.
A seasoned veteran of the homebuilding business, Atwood has been constructing houses in the Southlake area since 2001. In 2009, he started his own business, initially constructing smaller homes and villas, which would eventually turn into larger projects. This led to his participation in the 2015 Dream Home, which Atwood now claims has brought him substantially more business.
"Year after year, people brought me pictures from the Dream Home," Atwood says. "They would go back and buy furniture from the Dream Home; they'd come back and reference the Dream Home. I think it was very successful."
A natural collaborator, Atwood has since taken other builders under his wing, including fellow Dream Street builder Travis Franks of WillowTree Custom Homes.
When asked about the massive undertaking of building three homes from three different builders in the middle of a pandemic — and meeting their deadlines  — Atwood is equally amazed and gratified.
"Three different methods of madness," Atwood says. "We had different architects, different frameworks, different concrete guys, different pool guys. But we all got to the same point at the same time. We nailed it."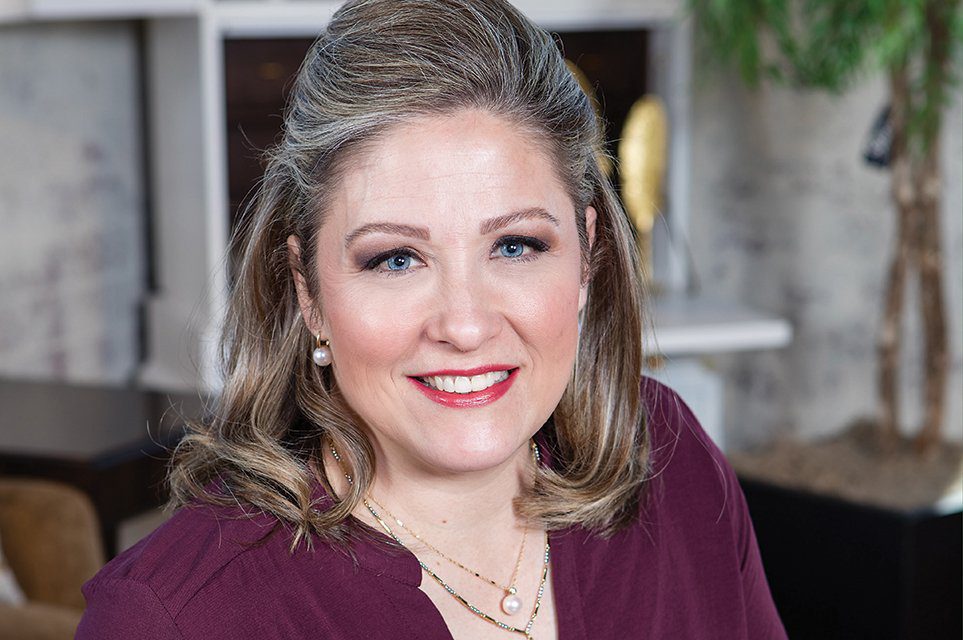 The Designer: Dorian Stacy  Stacy Furniture and Design
As Dorian Stacy puts it, she was the daughter of a "furniture guy" who started Stacy Furniture and Design. Born and raised in the area (she's seventh generation Southlake), Stacy graduated from Southlake High School and felt compelled to participate in this year's Dream Street to showcase her design work in her own backyard.
Despite her pedigree, Stacy says she doesn't have any formal training in interior design.
"I actually was a paralegal first and wasn't going to work in the family business," Stacy says. "And then decided they really needed me. So, I came back, and I've literally worked in every aspect of our business, including driving the forklift and driving the delivery truck. Done it all."
Stacy went through the school of hard knocks, paying attention and working diligently to understand what makes the most sense for specific spaces. Stacy says she owes her success to surrounding herself with a great team.
"We all work together," Stacy says. "It's not like individual women on their own, which is great. It takes a lot to do these kinds of projects."
Literally every member of the team has veto power. If someone doesn't like the look or feel of a specific item or swatch, they can order it be removed — an example of the trust Stacy has in her teammates.
But it's the personal touches that set Stacy apart from her contemporaries. When a series of decorative pieces arrived to fill the living room, they weren't quite working. Stacy contended they needed more silver tones. The solution: Stacy added silver paint — creating a work that meshed perfectly.
---
Here's the lineup of partners for our Dream Home at 1100 High Court in Southlake's Oxford Place.
---
Builder:
Atwood Custom Homes  atwoodcustomhome.com
Home plans:
J. Bolton & Associates  jboltondesigns.com
Interior:
Dorian Stacy, Stacy Furniture & Design  stacyfurniture.com
Realtor:
Jeannie Anderson, Compass  jeannieandersongroup.com
Appliances:
Expressions Home Gallery  expressionshomegallery.com
Cabinets, kitchen:
The Kitchen Source  thekitchensource.net
Concrete flatwork:
Blythe Concrete & Excavation  blytheconcrete.com
Countertops, fabrication:
Absolute Stone & Tile  absolutestoneusa.com
Countertops, material:
Levantina  levantina.com
Doors, exterior:
Quarles Lumber  quarleslumber.com
Drywall and texture:
Alliance Drywall  sheetrocker.com
Energy sponsor:
Atmos Energy  atmosenergy.com
Fencing, wood, iron, automated gates:
Magnolia Fence & Patio  magnoliafenceandpatio.com
Fireplace, inserts, interior; isokern and insert:
Overhead Door Company of Fort Worth  dallasdoors.com
Fire protection systems:
Safe Life Fire Protection  682.365.8343
Flooring, tile materials:
Interceramic USA  interceramicusa.com
Flooring, wood, labor:
North Texas Surfaces  northtexassurfaces.com
Flooring, wood, materials:
DuChateau  duchateau.com (Contact North Texas Surfaces)
Garage doors/openers:
Overhead Door Company of Fort Worth  dallasdoors.com
Gutters:
Loveless Gutters  lovelessgutter.com
Hardware, cabinets:
Rick's Hardware & Decorative Plumbing  rickshardware.com
HVAC:
Hawk Air Company  817.337.8089
Insulation:
New Leaf Foam Insulation  newleafInsulation.com
Landscape/irrigation/grade/lighting:
Guardado Landscaping  guardadolandscaping.com
Lender:
First National Bank Mortgage  fnbtx.com
Light fixtures and outdoor lighting:
Passion Lighting  lassionlighting.com
Low voltage/AV/security:
H Customs Audio/Video  hcustoms.com
Lumber and trusses:
Builders FirstSource  bldr.com
Paint:
Benjamin Moore
benjaminmoore.com
Patio furniture:
Yard Art Patio & Furniture  myyardart.com
Plumbing, fixtures:
Ferguson  ferguson.com
Pool:
Claffey Pools  claffeypools.com
Pool and game tables:
Fort Worth Billiards Superstore  billiardsuperstore.com
Roofing:
Texas Tile Roofing  texastileroofing.com
Shower glass and mirrors:
Galactic Glass LLC  galactic-glass.com
Site surveillance:
SiteViewPRO  siteviewpro.com
Stucco material and labor:
Centurion Stone of DFW  centurionstone.com
Windows and interior doors:
Quarles Windows  quarleslumber.com
Wine and spirits sponsor:
Bear Creek Spirits & Wine  bearcreekspirits.com
3D virtual tour:
Metroplex360  metroplex360.com