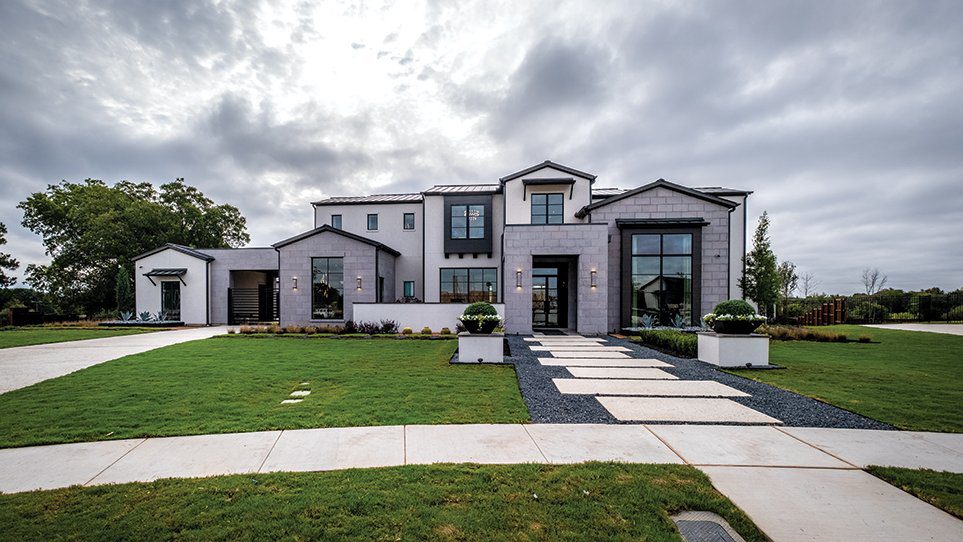 WillowTree Custom Homes and designer Susan Semmelmann found inspiration in New York for the interior of their 2020 Dream Street home at 1105 High Court in Southlake's Oxford Place.
Semmelmann calls the style "rustic contemporary," exemplified by New York's 1 Hotel Central Park, which finished its rooms in natural elements like woods and metals and gave them names like "Alcove" and "Greenhouse." "I wanted to give a sense of class to the organic design elements but still make it home and warm," Semmelmann, of Susan Semmelmann Interiors, says.
The Dream Street home, built by WillowTree and its interior designed by Semmelmann, is two stories and 7,551 square feet, with five bedrooms and six baths. The home, as in transitional, contemporary, and modern design, shows off a free-flowing and open floor plan. It's meant to entertain, from the moment guests approach the front entry and its private garden fountain, step inside the two-story atrium foyer, and join the party that's sure to billow onto the covered patio by evening's end.
Semmelmann brings natural elements — colors, textures, shapes, materials, images — into every room and pushes past the typical. "It's a dream home," says Semmelmann, in her fourth Dream Home partnership with the magazine. "Our inspiration is for you to walk in and see something you've never seen before."
She makes ample use of Dekton concrete flooring and its elegant hues and woodlike finishes. Dekton ties the first floor and covered porch together, but Semmelmann also uses it on the great room's massive fireplace mantel — the home's "masterpiece" — and on walls, built-in furniture, and shelving. DuChateau hardwood flooring makes its way onto the home's ceilings, not just the rustic flooring that unifies the second story.
Semmelmann uses light fixtures to augment every room, showed off most prominently with 16 Kichler pendants she clusters into two grand metal and glass fixtures in the great room. Metals, glass, and wood find their way into each fixture throughout the home; Passion Lighting, a longtime Dream Home partner to the magazine, provided the fixtures for all three 2020 Dream Street homes.
"That's what takes it to a Dream Home level," she says. "We wanted fixtures in every room. Most builders want to put ceiling fans in, for cost. [WillowTree] let us go totally out of the box. I think lighting makes the house."
Floor Plans
The Home: Being built by WillowTree and decked out inside by Susan Semmelmann Interiors, the design is a cross between transitional and contemporary. The inspiration is a hotel in New York City. The home, at 7,551 square feet, is two stories with five bedrooms, six baths, two garages, multiple living spaces, and a pool. The open floor plan takes in the living spaces, kitchen, and wine room and connects easily to the outdoor spaces. The home listed for sale at $3.795 million.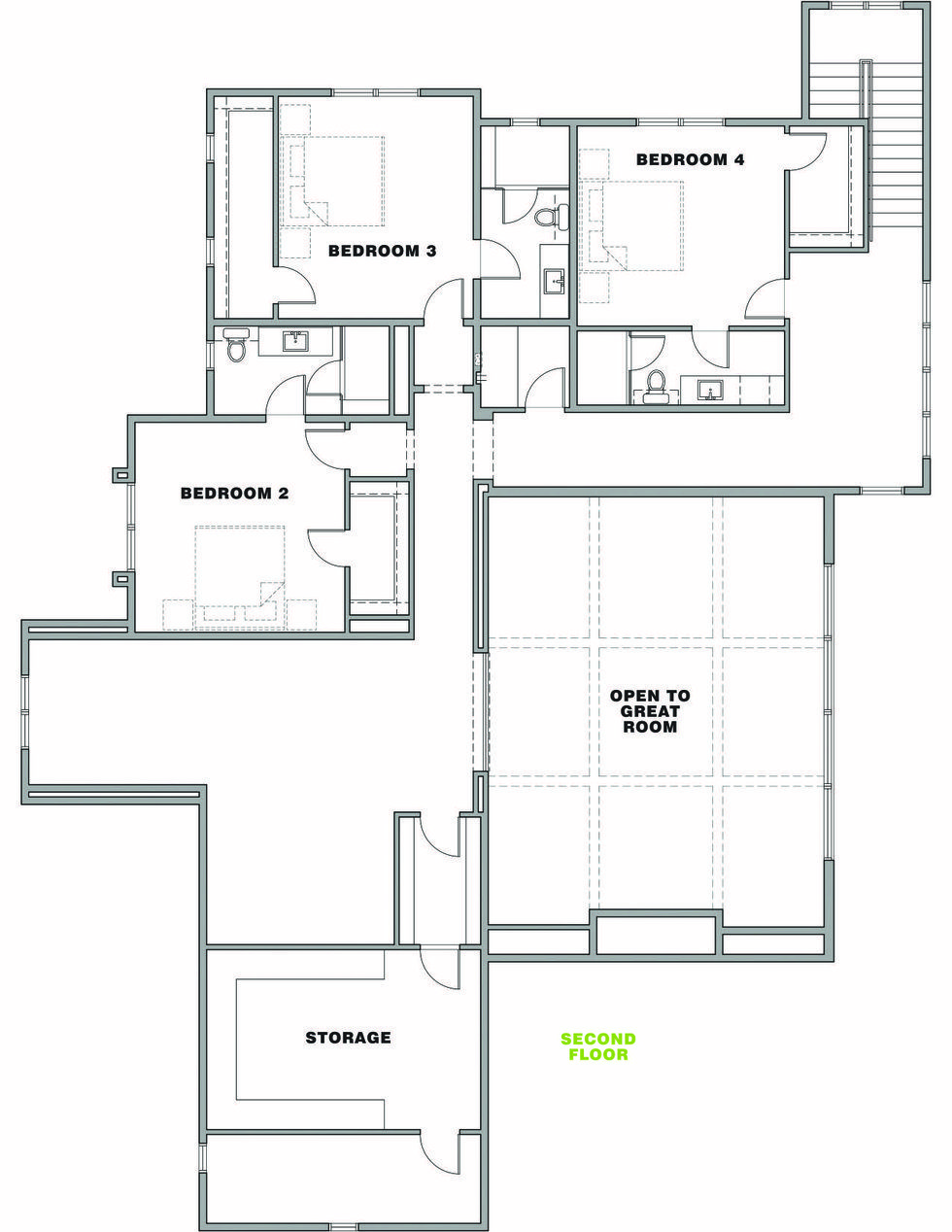 The Architect:
Watson Design Group is no stranger to Fort Worth Magazine's Dream Homes. The firm drew the plans for the magazine's 2013 Dream Home, in West Fort Worth's Monticello neighborhood. Watson has been architect on several of the magazine's Dream Homes. The Fort Worth firm focuses on residential design, historical preservation, and light commercial; and it's one of the architects for Clearfork's luxury Riverhills development in southwest Fort Worth.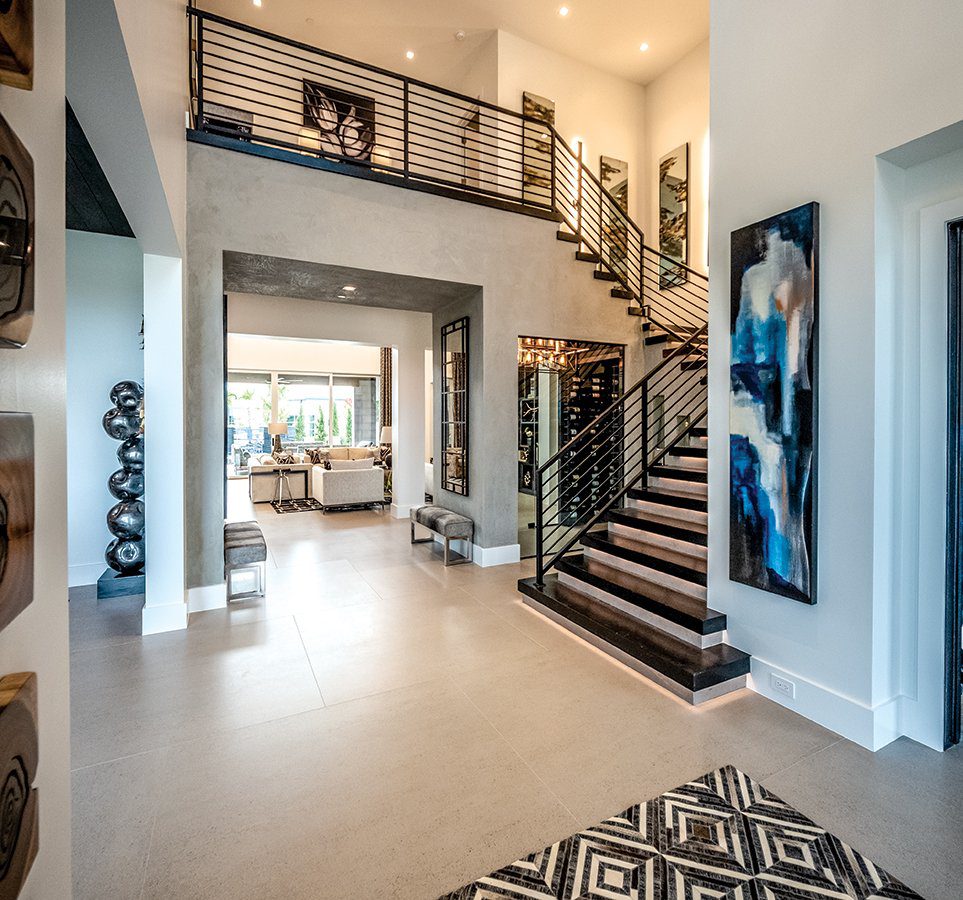 The Dream Home's foyer is where the entertaining begins. An understated 180-bottle wine room sits behind glass at the base of the stairway to the second floor. It waits patiently for your guests: Turn the lights on, and it becomes part of the party.
The Dream Home's main stairway uses warm LED underlighting beneath the treads, accentuating them when the sun sets.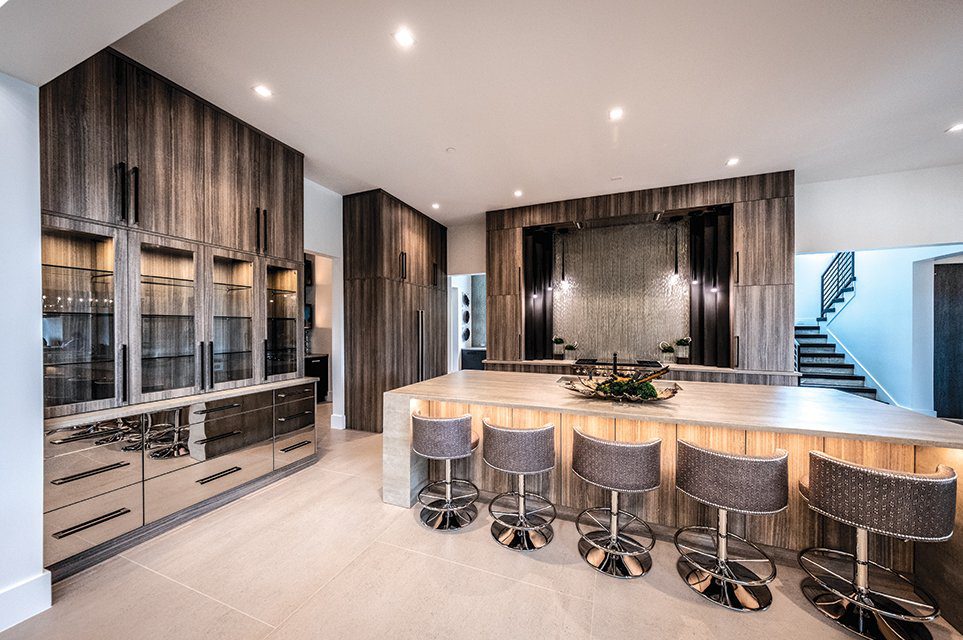 The Dream Home's kitchen eschews the tradtitional. Hidden vent hood. Fabricated laminate and polished stainless cabinets, The Kitchen Source. Teklum porcelain countertops, Levantina. "It has the concrete organic lool," Semmelmann says. Metal tile backsplash from Daltile complements cabinet fronts' wood grain texture. Appliances, Expressions Home Gallery. Semmelmann clusters minimalist Modern Forms pendants from Passion Lighting as single fixture.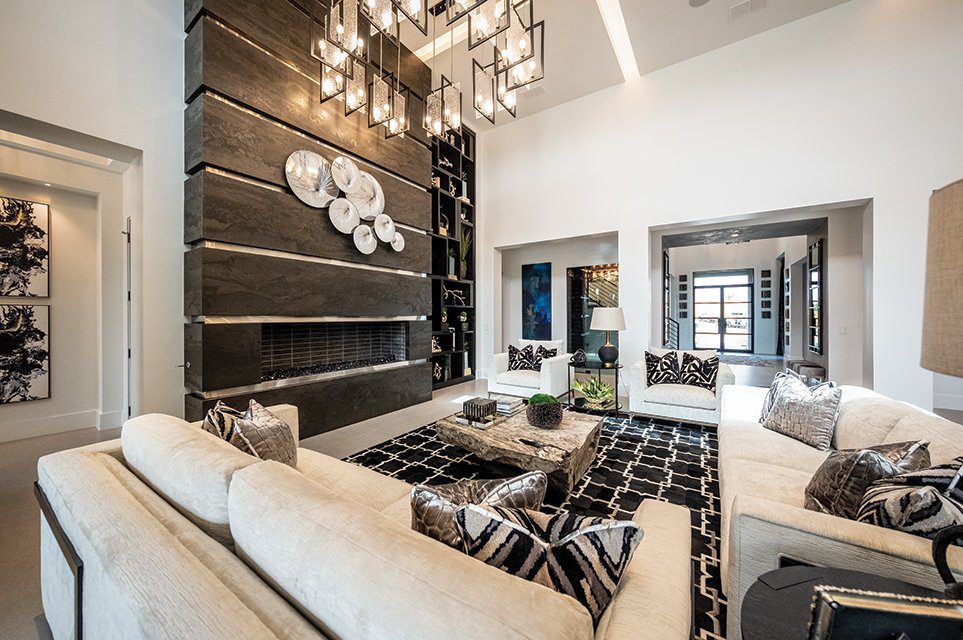 "This is our masterpiece," designer Susan Semmelmann says of the massive mantel in the home's great room. Architect's original plan: stone fireplace and traditional mantel. "We went completely out of the box." Semmelmann used Dekton — a durable, heavy material made of concrete and typically used in flooring and countertops — for the mantel, accented by recessed, polished stainless steel. She deploys Dekton extensively throughout the first floor of the house as a unifying organic element, including much of the flooring. Dekton's max 167-inch long spans ensured no seams on the mantel. To light the great room, Semmelmann grouped 16 metal and cracked glass pendants provided by Passion Lighting, partner on all three Dream Street homes, to create two big clusters. "We love the idea of taking pendants and making them into a grand fixture."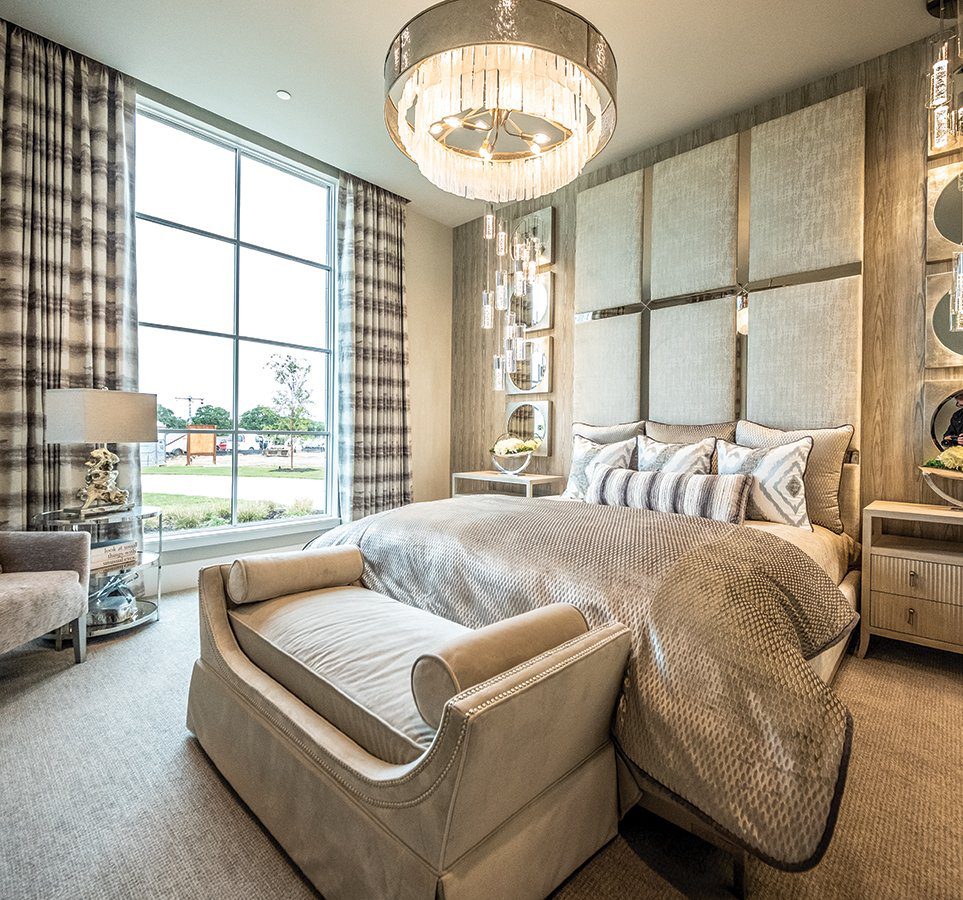 No need to look for the glam button: Semmelmann pushes it for you. "Contemporary glamour," she says of the master suite. "Very light, very fresh, very master." Semmelman puts LEDs behind the bed. The room is imbued with organic elements: rock-shaped mirrors and stones in picture frames and other accessories; animal prints; stainless steel and other metals; and glass. Alora chandelier from Passion Lighting sports clear glass tubes trimmed by metal band for antique look. Wood motif is on display in furnishings and a wallpaper pattern throughout the home. The master's luxuriant bedding comes handmade from Semmelmann's shop. "We make all of our bedding." And Semmelmann lays out a copy of her book The Spirit of Living is in the Giving. "We wanted you to feel that spirit in every single room."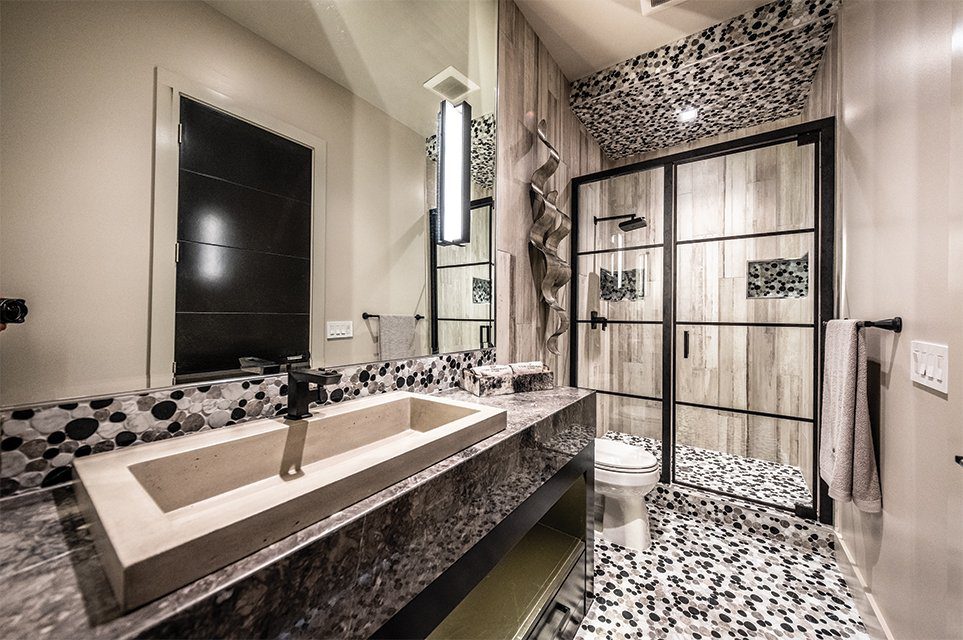 Semmelmann incorporates natural elements — shapes, patterns, materials, colors, textures — into the Dream Home's baths. Focal point of the master bath (upper right): concrete tub ("I fell in love with it and said we have to have it."), set on a herringbone tile floor that runs the room's length and into the shower and surround. The his-and-hers vanities feature quartz countertops; Semmelmann extended one of them to build in a bench next to the tub and take the spa feel a few notches higher.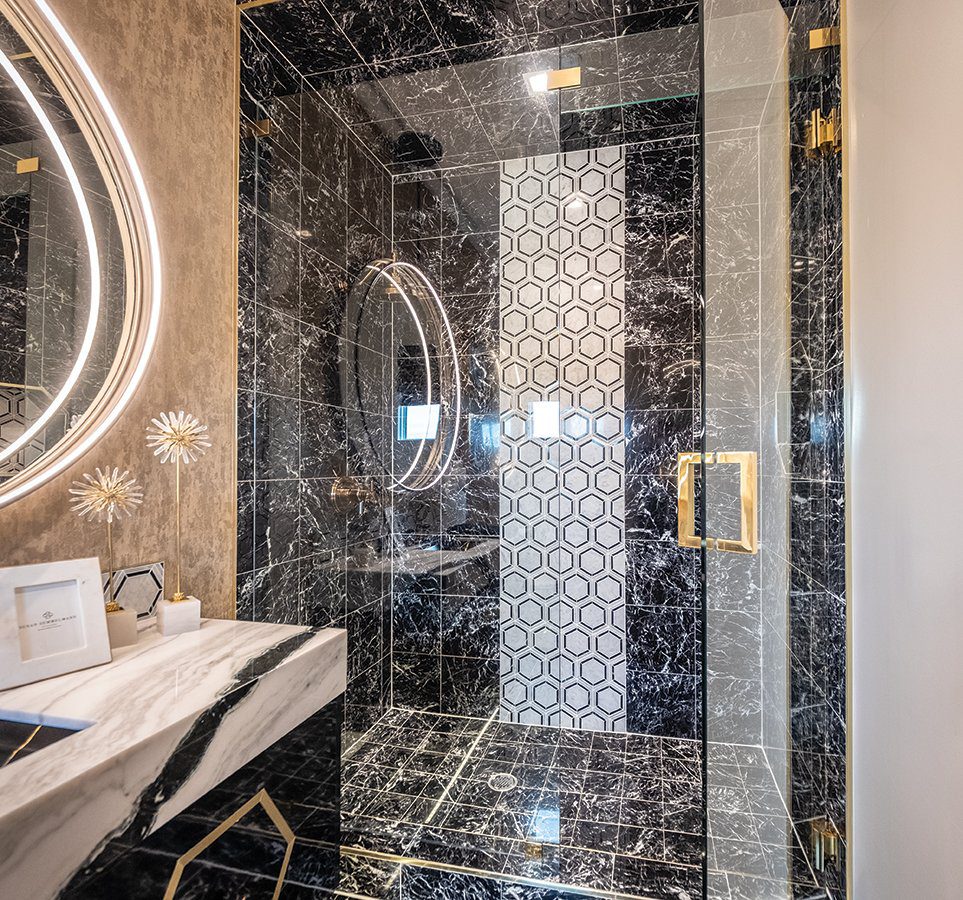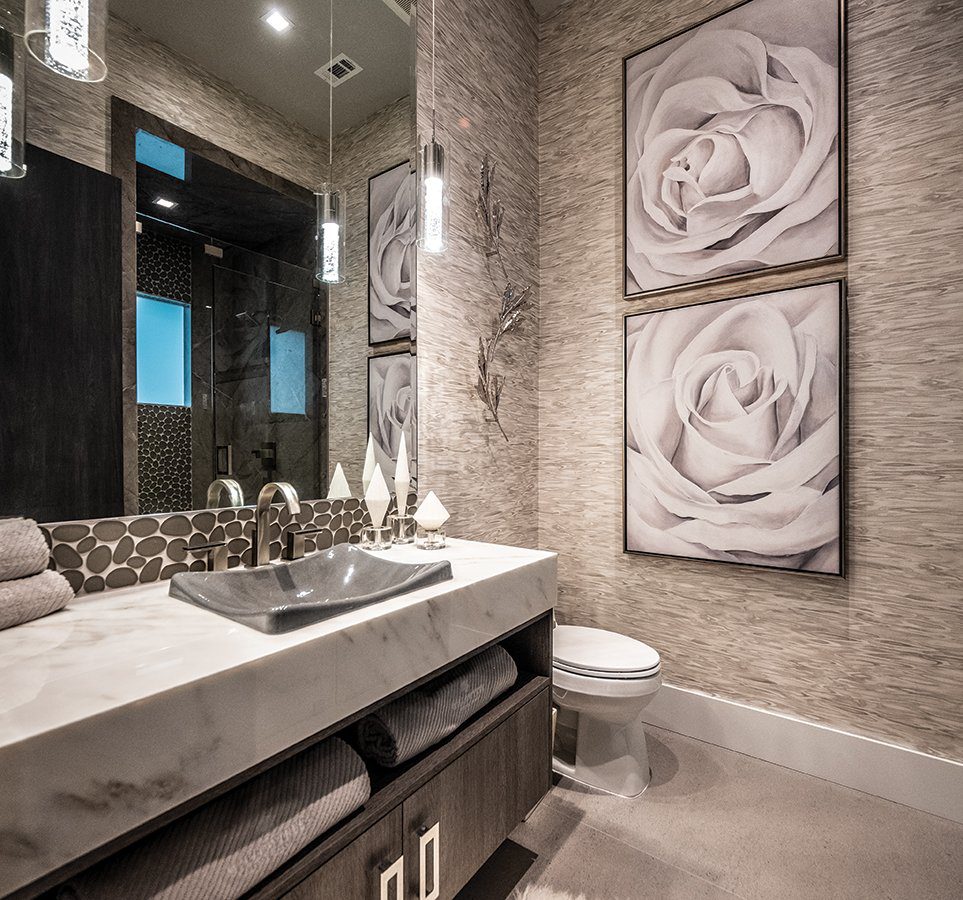 Semmelmann's use of natural materials and finishes hits high gear in the study: DuChateau stained hardwood ceiling; Dekton concrete in 3-D matte wall, matte and gloss-finished floating shelves, built-in credenza, floor; croc, animal print, bronze, hairhide, tusk, metal textures in furnishings, accessories, and lighting. Even ostrich in the hardware. Light spills in through large street-facing divided lights. "I wanted to give a sense of class to the organic design elements but still make it home and warm."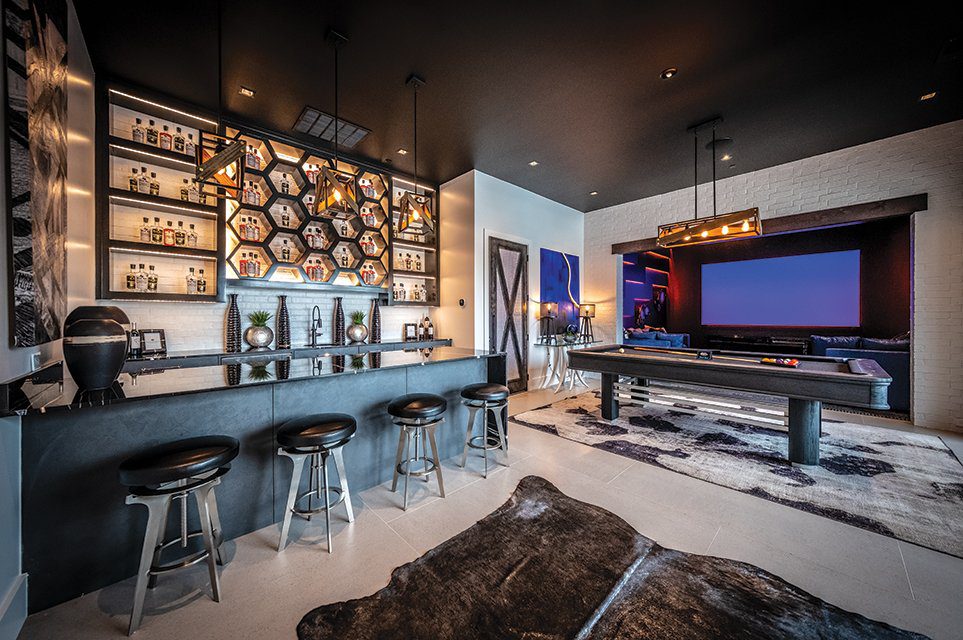 Semmelmann turns honeycomb-styled piece of furniture and brick into boozy accent wall for the pub. And are media rooms back? Semmelmann loves this one, layered, underlit, and open to the pub, not closed-off. Guests can move freely between the bar and theater. "You don't feel like you're leaving the party."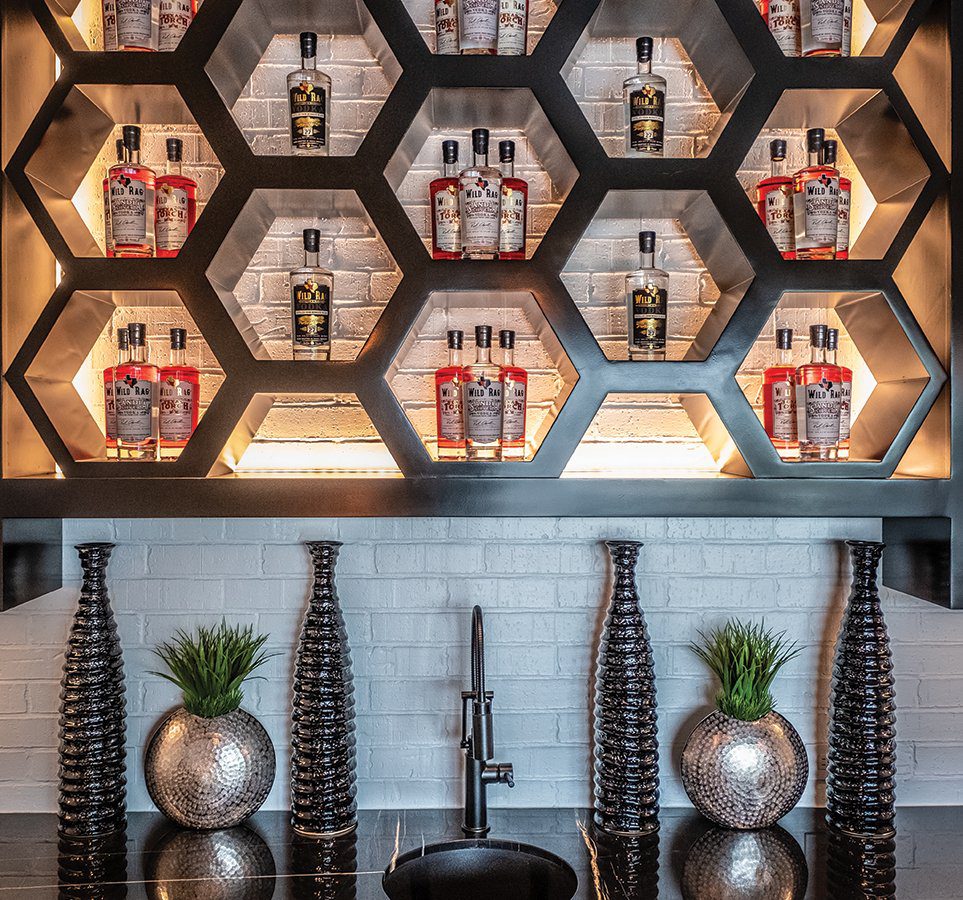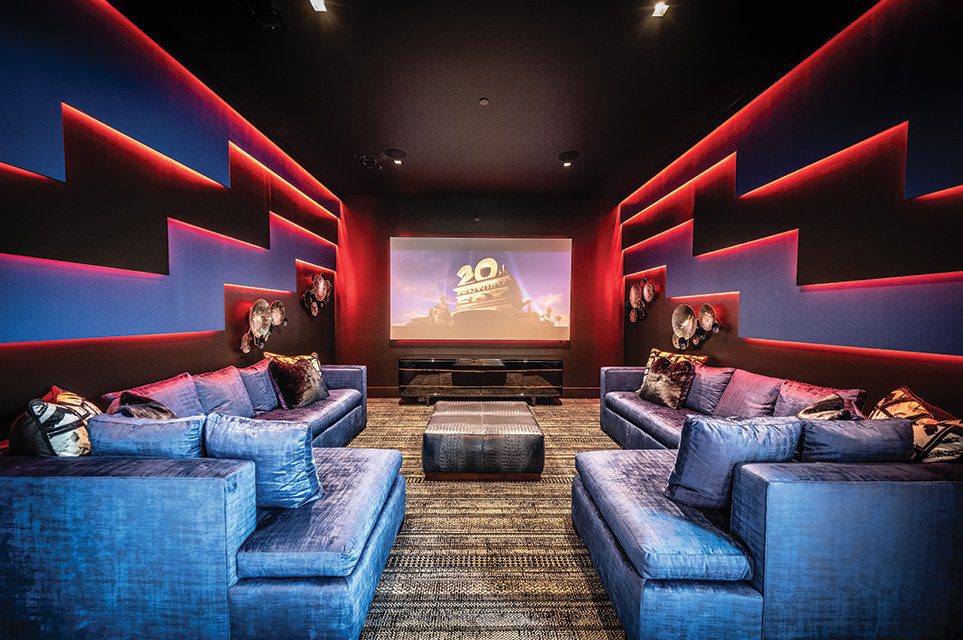 Our Dream Homes are here to entertain. Open the sliding glass doors to an indoor-outdoor party. Hang out on the tanning ledge beneath the Claffey Pools' waterfall, catch a game on one of your two flat panels, grill burgers with friends. Furniture by Yard Art Patio & Fireplace. Still a little warm right now? Push a button and the retractable sunshades drop in seconds. And so does the temp. Too cool in the winter? Another button turns on the built-in heaters.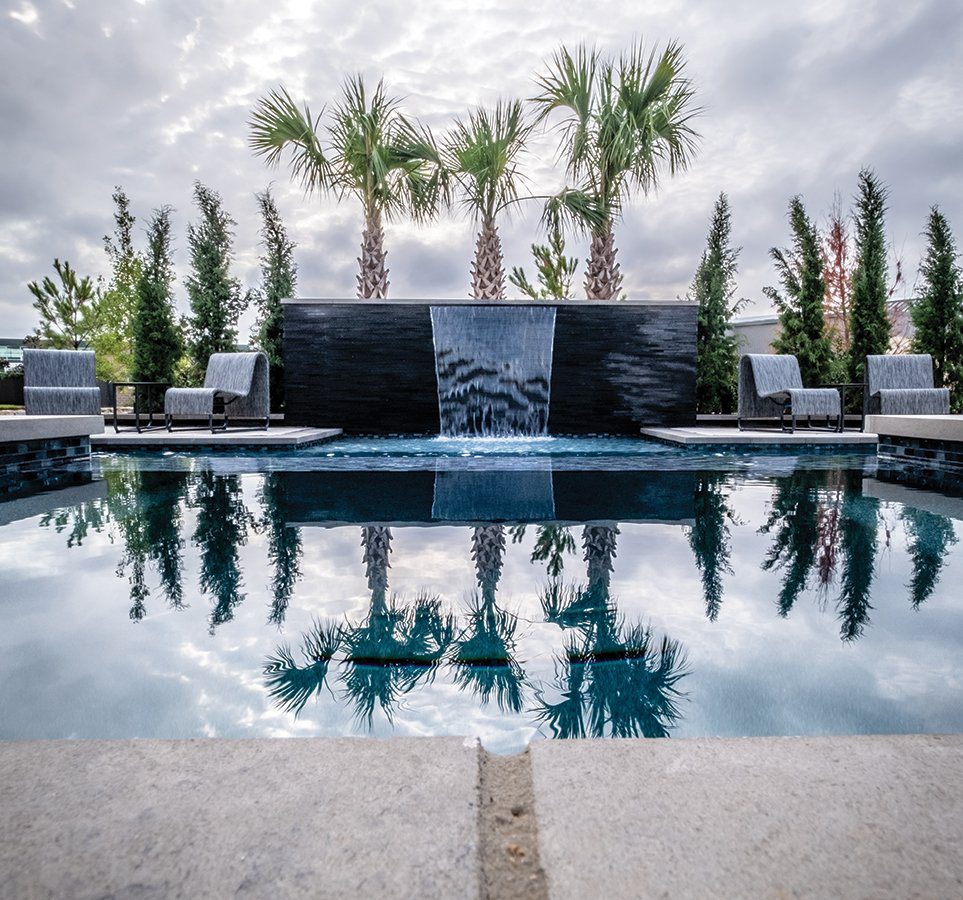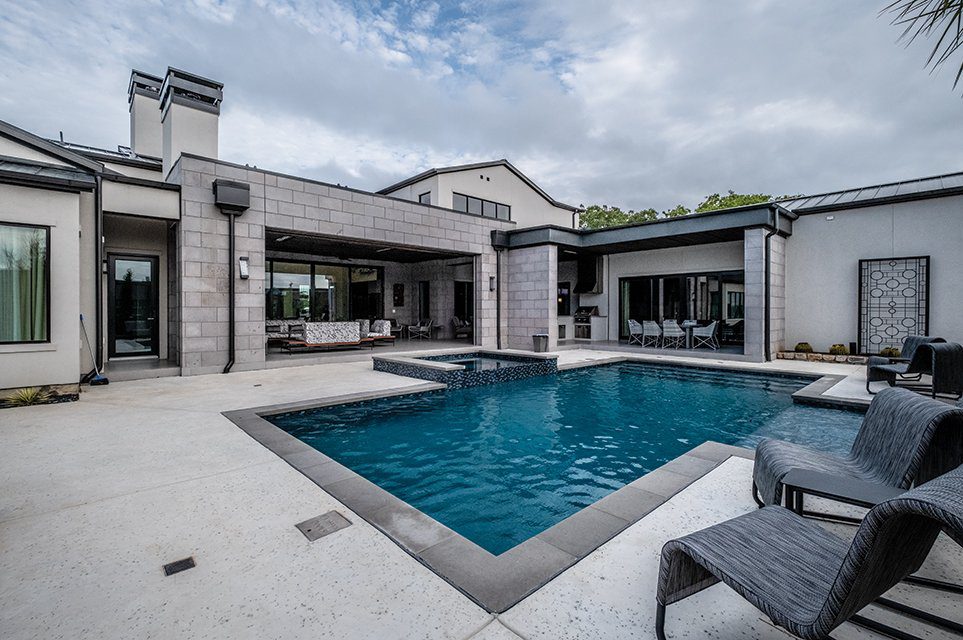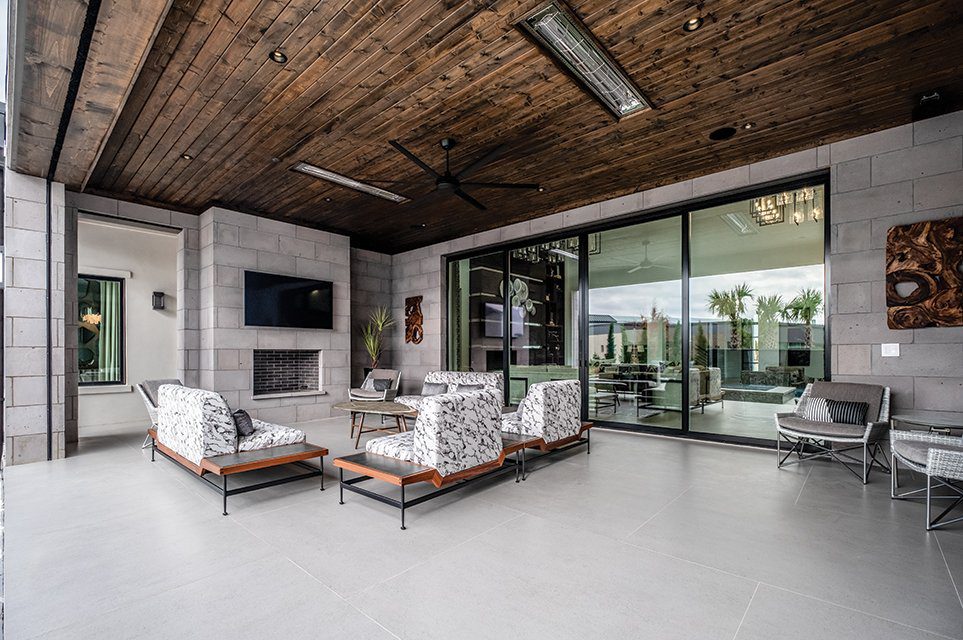 The formal dining room is one of the first things you see when you enter the Dream Home's two-story atrium foyer. Eschewing the typical, Semmelmann went with a mirrored wall and built-in inset buffet to a room already splashed by sunlight. "It just gives a different element than having sheetrock everywhere." DuChateau hardwood flooring on ceiling. Uttermost mirrored glass and mixed metals chandelier, from Passion Lighting. Crocs, florals and animal imagery augment. "There's a little bit of nature in every room."
---
Builders/Designers
The builder: Travis Franks  WillowTree Custom Homes
Travis Franks has a unique perspective on our 2020 Dream Street — as builder of one of the three super-luxury homes that sit side-by-side in a cul-de-sac at the end of High Court, lone street in the Oxford Place neighborhood, which Franks also is developing.
The site has been in the family since the grandfather of Franks' wife bought 50 acres in 1955 and ran a small ranch on it for years. The family sold 37 acres to Southlake's Carroll schools for the construction of Carroll Middle School and kept 13 acres. Franks subsequently purchased the site, today, Oxford Place.
Beyond the three Dream Street lots, only three of Oxford Place's other eight — all 1 acre — remain to be sold, says Franks, CEO of WillowTree Custom Homes. The residential market in the Southlake-Colleyville-Westlake remains tight, and Franks predicted earlier in the spring Oxford Place would sell out quickly. "You can feel the urgency," he says. "That's the kind of phone calls we've been getting."
Franks, who graduated from the University of North Texas, worked several years for a North Texas homebuilder and later sold plumbing products as a manufacturer's rep before he went into business in WillowTree with Jody Alumbaugh, a Texas A&M-educated structural engineer. Alumbaugh brings over 12 years of experience in construction and design and oversees, evaluates, approves, and coordinates all projects. The pair started in high-end remodels before moving into new construction. WillowTree today is building in Southlake, Westlake, Bartonville, and Colleyville.
The designer: Susan Semmelmann  Susan Semmelmann Interiors
Susan Semmelmann is no stranger to our Dream Homes. This marks the fourth such project she's collaborated on for Fort Worth Magazine. Semmelmann got her start building houses with her husband, Marc. That evolved into a design firm she owned with a partner for 18 years. And in March last year, Semmelmann launched her own brand and firm, Susan Semmelmann Interiors.
She's under construction on a 10,000-square-foot design center at 4372 West Vickery Blvd. in Fort Worth, which she hopes to open in December. It will be home to Semmelmann's interiors business and her Fort Worth Design Studio, which will offer a broad array of brands and products and be open to other area designers and their clients who might now spend a lot of time at Dallas' World Trade Center. "My idea is to be an asset to the designers, not a competitor."
Residential construction and improvement has surged as COVID-19 kept people cooped up. "Our business is at an all-time high right now. We are getting calls daily to renovate, design, furnish, update, upgrade. It's been great for acquiring clients. The operational part has been the struggle because we're having a really hard time getting product in a timely manner."
A big part of her brand is in giving back. Marc Semmelmann is a cancer survivor who, as a general aviation pilot, regularly flies patients between North Texas and Houston for visits to the M.D. Anderson Cancer Center. One of Semmelmann's favorite causes is a Wish with Wings, which grants wishes to ill Texas kids. Her motto, infused in her Dream Street design: "The spirit of living is in the giving."
---
Here's the lineup of partners for our Dream Home at 1105 High Court in Southlake's Oxford Place.
Builder:
WillowTree Custom Homes  willowtreetx.com
Architect:
Watson Design Architects  watsondesigngroup.com
Interior:
Susan Semmelmann Interiors  semmelmanninteriors.com
Realtor:
Tommy Pistana, Compass  thepistanagroup.com
Appliances:
Expressions Home Gallery  expressionshomegallery.com
Cabinets, kitchen:
The Kitchen Source  thekitchensource.net
Cabinets, other:
JIL Custom Cabinets  jilcustomcabinets.com
Concrete flatwork:
Blythe Concrete  blytheconcrete.com
Countertops, fabrication:
Absolute Stone & Tile  absolutestoneusa.com
Countertops, material:
Levantina  levantina.com
Doors, exterior front:
M2 Metals Iron Doors  m2metals.com
Drywall and texture:
Alliance Drywall  sheetrocker.com
Electrician:
MPT Electric  469.667.1755
Energy sponsor:
Atmos Energy  atmosenergy.com
Fencing, wood, iron, automated gates:
Lambert's Ornamental Iron  lambertsornamentaliron.com
Fire protection systems:
Safe Life Fire Protection  682.365.8343
Flooring, tile materials:
Daltile  daltile.com
Flooring, wood, labor:
North Texas Surfaces  northtexassurfaces.com
Flooring, wood, materials:
DuChateau  duchateau.com (Contact North Texas Surfaces)
Garage doors/openers:
Open Up Garage Doors  openupgaragedoors.com
Gutters:
Loveless Gutters  lovelessgutter.com
Hardware, cabinets:
Pierce Fine Decorative Hardware and Plumbing  piercehardware.com
HVAC:
Hawk Air Company  817.337.8089
Insulation:
New Leaf Foam Insulation  newLeafInsulation.com
Landscape/irrigation/grade/lighting:
Joey Design Irrigation and Landscapes  682.429.6911
Lender sponsor:
First National Bank Mortgage  fnbtx.com
Light fixtures and outdoor lighting:
Passion Lighting  passionlighting.com
Low voltage/AV/security:
ComwareAV  comwareav.com
Lumber and trusses:
DeFord Lumber Co., Ltd.  defords.com
Paint:
Benjamin Moore  benjaminmoore.com
Paint labor:
J&V Painting  jandvpainting.com
Patio furniture:
Yard Art Patio & Fireplace  myyardart.com
Plumbing fixtures:
Expressions Home Gallery  expressionshomegallery.com
Plumbing labor and supplies:
Posey Plumbing  poseyplumbing.net
Pool:
Claffey Pools  claffeypools.com
Pool and game tables:
Fort Worth Billiards Superstore  billiardsuperstore.com
Shower glass and mirrors:
Fashion Glass & Mirror  fashionglass.com
Site surveillance:
SiteViewPRO  siteviewpro.com
Stone materials:
Texas Stone Creations  texasstonecreations.com
Stucco material and labor:
MCD Stucco  972.822.3875
Wine room, cabinets:
Vineyard Wine Cellars  vineyardwinecellars.com
Wine room, ceiling:
Cosentino  cosentino.com
Wine and spirits sponsor:
Bear Creek Spirits and Wine  bearcreekspirits.com
3D virtual tour:
Metroplex360  metroplex360.com