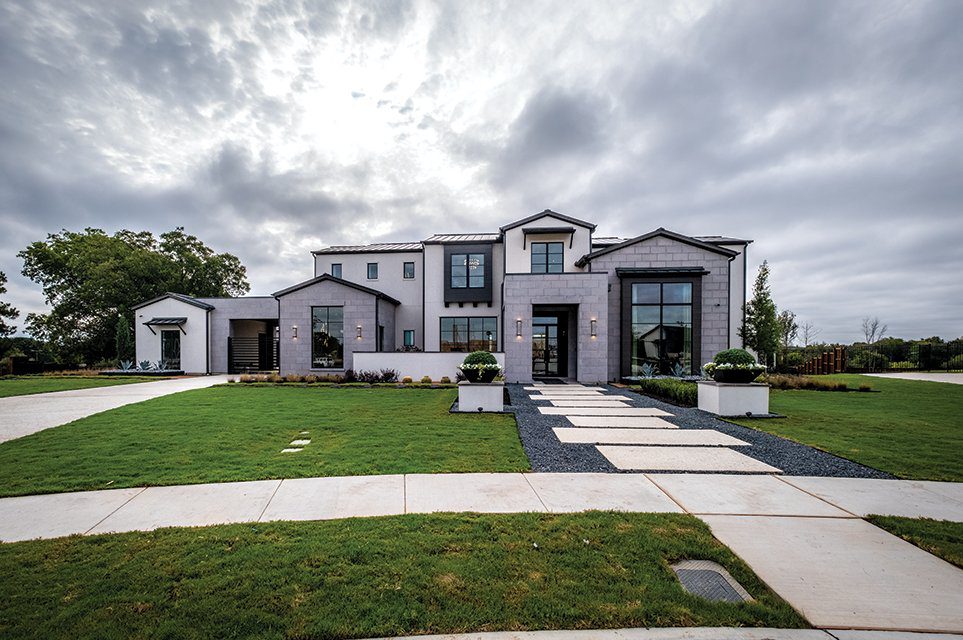 WillowTree Custom Homes' 7,551-square-foot Dream Street home at 1105 HIgh Court in Southlake sports five bedrooms, 7.5 baths, and two garages, including a perfect showroom for your classic. It's listed for sale at $3.795 million through Tommy Pistana of Compass.
WillowTree Custom Homes' Dream Street home, a 7,551-square-foot rustic contemporary at 1105 High Court in Southlake, is chock full of design ideas.
Designer Susan Semmelmann found inspiration for the interior in New York's 1 Hotel Central Park, which finished its rooms in natural elements like woods and metals and gave them names like "Alcove." Every room in the WillowTree home — one of three side-by-side in Southlake's Oxford Place subdivision that make up our 2020 Dream Street — has touches of nature. The home — five bedrooms, 7.5 baths, two garages — is listed for sale at $3.795 million by Tommy Pistana of Compass.
Here's a sampling of what you'll see when you tour the WillowTree home.
GREAT ROOM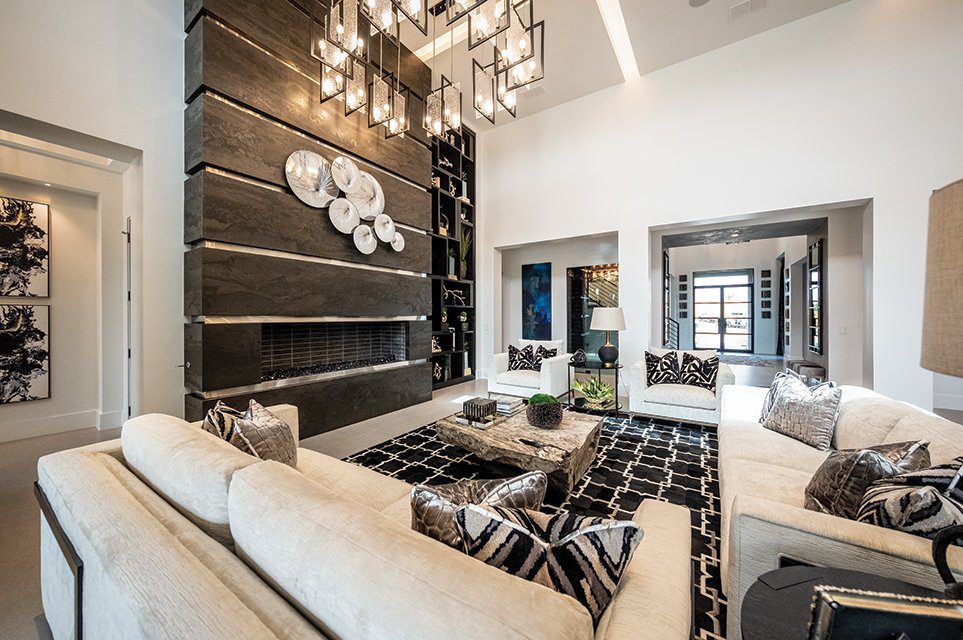 "This is our masterpiece," Semmelmann says of the massive mantel in the great room, which connects the dining room, kitchen, breakfast room, foyer, and study. The architect's original plan: stone fireplace and traditional mantel. "We went completely out of the box."
Semmelmann used Dekton — a durable, heavy material made of concrete and typically used in flooring and countertops — for the mantel, accentuated by recessed polished stainless steel. She deploys Dekton extensively throughout the first floor of the house as a unifying organic element, including much of the flooring. Dekton's maximum 167-inch-long spans ensured no seams on the mantel. dekton.com
To light the great room, Semmelmann grouped 16 metal and slumped glass pendants provided by Passion Lighting, partner on all three of this year's Dream Street homes, to create two big fixtures hanging from a recessed ceiling. "We love the idea of taking pendants and making them into a grand fixture. The lighting in this home is truly the best lighting I've ever seen." Kichler pendants, passionlighting.com, $718 apiece
Semmelmann furnished and accessorized the room with the warm and organic, including hues and textures in the sofas, chairs, rugs, and pillows, and metals and woods in other furniture and art installations. susansemmelmanninteriors.com
KITCHEN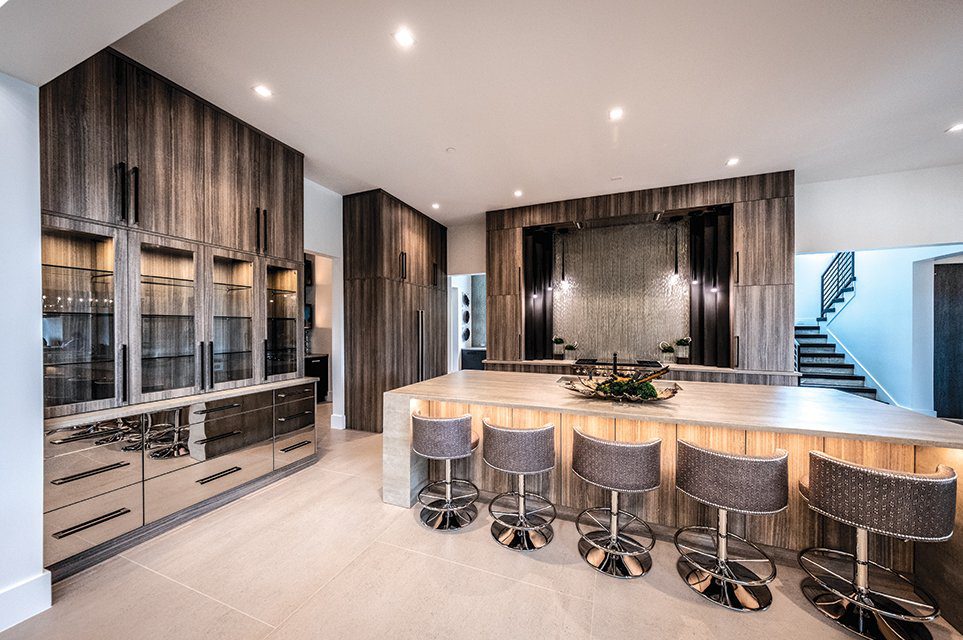 The dream home's kitchen eschews the traditional. Start with the flush-mounted ceiling vent hood. Again, Semmelmann says, "Let's not be in the box." The Kitchen Source, a longtime Dream Home partner of the magazine and kitchen cabinet provider for all three of the Dream Street kitchens, put in Indiana-manufactured Grabill Custom Cabinetry with soft, neutral high pressure laminate finishes, glass doors, and mirrored stainless drawer fronts. The cabinet-fronts hide the kitchen's appliances.
Product features of the cabinets include integrated pull-outs left and right of the hood, cutlery organization, interior rollout shelves, and drawer dish storage. A metal tile backsplash from Daltile complements the cabinet fronts. Semmelmann brought in Teklum porcelain countertops from Levantina, and she clusters minimalist Modern Forms pendants from Passion Lighting as single fixtures over the range.
The kitchen's finishes simulate elements found in the fireplace treatments. "The kitchen incorporates texture from multiple materials to bring its own sense of drama as you walk into the space," the Kitchen Source says. "The flush-mounted ceiling hood incorporated into the design allows for the expected traditional hood area to be transformed into a stunning focal point that sets the tone for the kitchen."
Expressions Home Gallery provided an array of appliances, including a Sub Zero-Wolf panel-ready 36-inch column refrigerator and 36-inch column freezer. Expressions also provided the appliances for the prep kitchen, outdoor kitchen, and hallway bar just off of the main kitchen, and the WillowTree home's plumbing fixtures.
Semmelmann designed the catering kitchen with similar finishes as in the kitchen, offering ample countertops and direct lighting from outside to display dishes for the party. "We wanted the prep kitchen to be just as inviting and to be used for presentation," Semmelmann said. "It's something that's made for entertaining and not just for prep work."
Kitchen cabinets: thekitchensource.net
Countertops: levantina.com
Countertop installation: absolutestoneusa.com
Lighting: passionlighting.com
Appliances and plumbing fixtures: expressionshomegallery.com
Hardware: piercehardware.com
MASTER BATH
Semmelmann incorporates natural elements — shapes, patterns, materials, colors, fixtures — into all of the dream home's baths. Focal point of the master bath is a concrete tub that Semmlemann found. "I fell in love with it and said we have to have it," she says.
The tub's set on a herringbone-patterned tile floor that runs the room's full length and into the shower and surround. The surround runs to the ceiling, a Semmelmann design hallmark. The his-and-hers vanities feature quartz countertops. Semmelmann extended one of them to build in a bench next to the tub and take the spa feel a few notches higher. The vanity cabinets are made of a similar laminate as what's in the kitchen.
Tub: susansemmelmanninteriors.com
Tile: daltile.com
Stone: texasstonecreations.com
Cabinets: jilcustomcabinets.com
Tour the Dream Street
Our 2020 Dream Street — three homes side-by-side in a cul-de-sac in Southlake's Oxford Place subdivision — are open for tours on selected days in October to benefit a Wish With Wings, our official charity.
Tickets: givebutter.com/dreamstreet2020