Inspired by the Texas Hill Country, Heritage Homes' Dream Street home at 1104 High Court incorporates furnishings that nod to the outdoors. Natural woods and custom greenery weave their way throughout the design, while other eclectic pieces give the home a modern edge.
Here's a peek at some of the pieces you'll find inside.
See something you like? If you'd like more information on a specific product, contact designer Traci Darden, Elements of Design, traci@elementsofdesignllc.com, 817-428-0657, ext 101.
Prices shown are per item, not groupings unless noted as "set."
FAMILY ROOM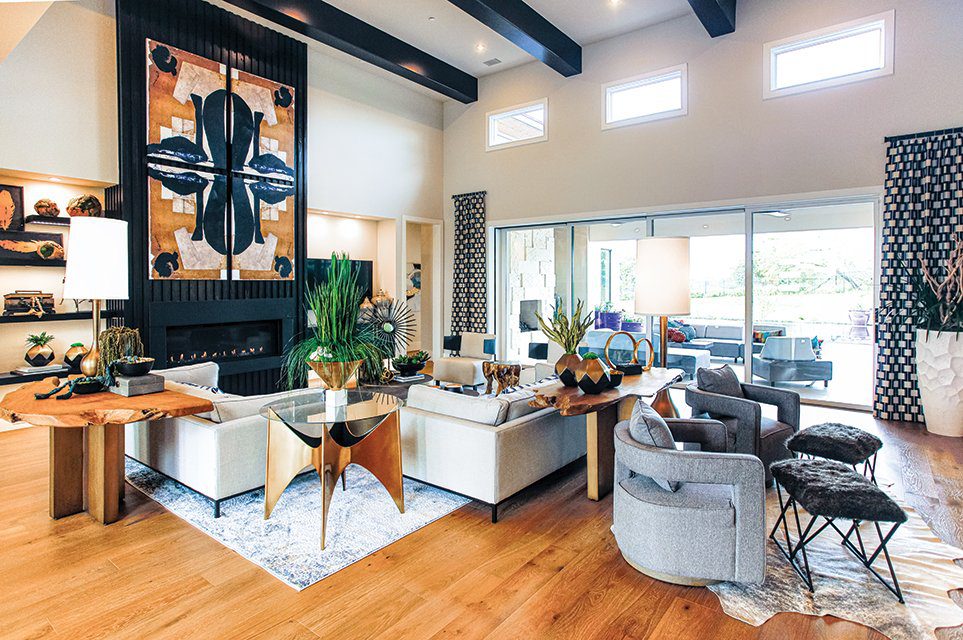 An extra-large family room deserves extra-large furniture. Darden purposefully selected oversized pieces for the house's central space, like the giant planter and the custom art piece above the fireplace.
Accent lamp in light bronze, $1,137.00
Accent swivel chairs in grey, upholstered, $895.80
Area rug in ocean gold, $3,975.00
Chair in cream, $2,547.00
Coffee table (set of 2), brass toned metal base, $1,427.88
Custom art image, 36×54, size options available, brush gel, $699.75
Custom art image, mirrored, 36×54, size options available, brush gel, $909.75
Bennet Moon custom sofa, $2,835.00
Cyan Amaranthus custom greenery, $543.63
Floor Lamp in light bronze, $2,997.00
Exotic Cowhide X Large in grey, $750.00
High Court custom greenery, $843.00
Large ginger ceramic jar in celadon/beige speckle glaze, $687.00
Live edge console table, teak wood, iron base, $2,999.37
Table base in antique gold, $3,987.15
Teak root accent table , $778.05
Vela Grande Ghostbranch custom greenery, $1,926.24
OWNERS' SUITE
With blue being the dominant color of the home, Darden plays up the hue in the owners' suite, from the blue and cream area rug to the sapphire navy swivel chairs by the window. Meanwhile, white, black, and gold provide sophisticated accents.
Area rug, blues and cream, $2,796.75
Polo Club Muslin king, $3,897.00
Matte black dresser mirror, $1,077.00
Gold duvet cover king, $1,386.00
Faux fur throw, $555.00
Framed canvas, $749.85
Leon dresser, pale, $4,929.00
Napa orchid custom greenery, $506.67
Petrified wood table top, geode stone, $717.00
Side night chest in black, white, and gold, $1,725.00
Swivel chair, Sapphire Navy, $1,350.00
Vela agave medium custom greenery, $935.73
GAME ROOM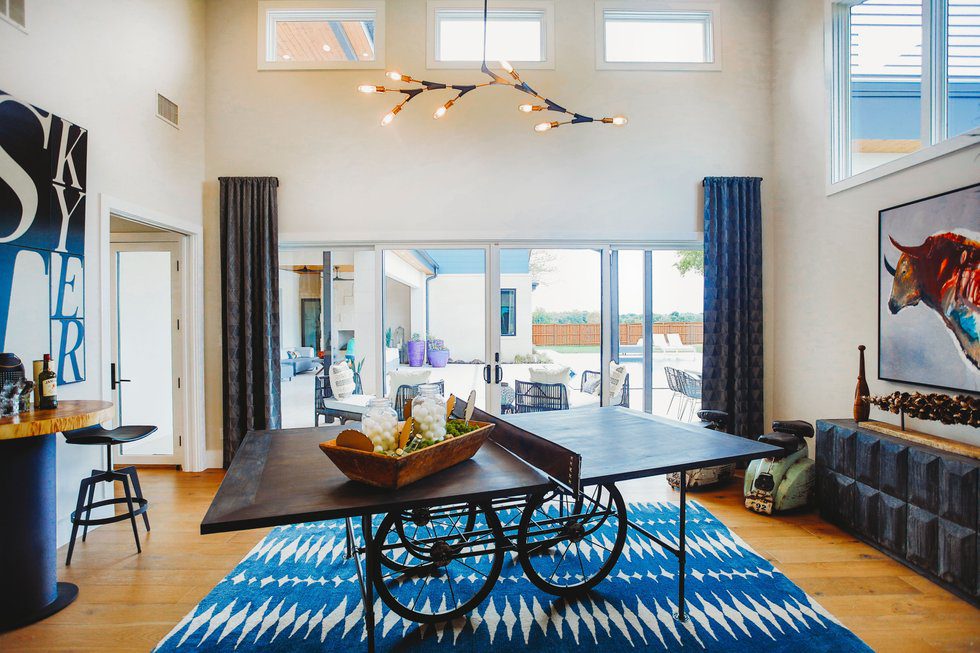 The game room features some of the home's most eclectic pieces, like the custom-made ping-pong table, built from an old flower market cart. Old scooters have also been repurposed as stools.
Area rug, blues and creams, $1,415.25
Concrete bar table, concrete and chamcha wood top, $1,887.00
Console in dark brown, $1,794.00
Custom ping-pong table, $5,187.00
No More Bull art, black frame, $1,137.00
Scooter seat in blue, $537.00