Fort Worth Magazine's Dream Home turns 20 this year, and, my, have we covered a broad swath of design trends.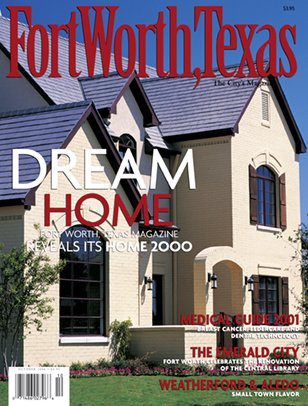 Our baby turns 20 this year, and, man, has it grown up and covered a lot of ground since becoming a young adult.
The magazine's annual partnerships with luxury builders, designers, and subcontractors began in 2000 when we collaborated on the construction and finishing of a home in southwest Fort Worth's Mira Vista neighborhood. The style: Old World European Country with New World open concepts, features, and technology.
Much has changed since then. The Old World has given way to transitional, contemporary, and modern design that lets the light pour in. Flat panels, digital entertainment, and smart systems have replaced CRT television sets. Heavy is out, replaced by clean lines and light organic finishes. And for the first time, this year, the magazine is collaborating on three luxury homes — a Dream Street in Southlake's Oxford Place — at the same time.
The magazine birthed the Dream Home in 2000, teaming with Schwarz Hanson Architects, The Morrison Group as builder, and Susan Stafford of Stafford Interiors to build the Mira Vista home. The Dream Home's journey has taken us across the region, to Aledo, Westlake, Southlake, Monticello, Westover Hills, Colonial, River Crest, Montserrat, Keller, Benbrook's LaCantera, Colleyville, and Walsh. We've done three Dream Homes in Westlake. And this year's mark our fourth, fifth, and sixth Dream Homes in Southlake.
All along, the design trends of the day were infused with Texas. We've treated our readers to Texas Tuscany, modern hacienda, and Hill Country contemporary.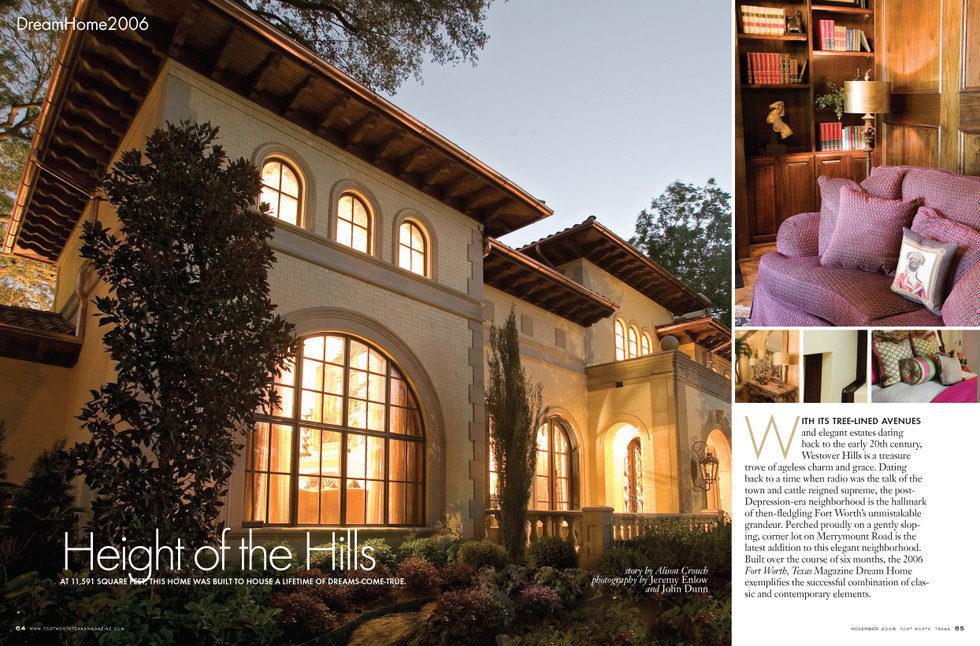 A slate of the region's finest builders, designers, construction trades, and vendors have been aboard for the ride. This year's builders are Jon Atwood of Atwood Custom Homes, John Webb of Heritage Homes, and Travis Franks of WillowTree Custom Homes. It's Atwood's second Dream Home with the magazine since 2015 and Webb's second in two years. Many of our vendor partners have supplied the project for years. And sales of tour tickets have always benefited a local charity — our partner today is a Wish with Wings.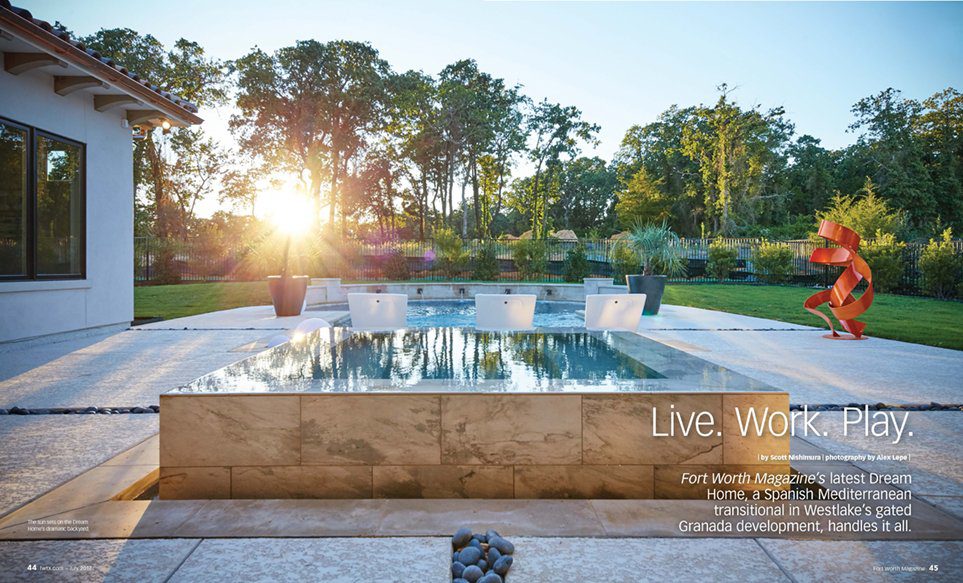 Here's a quick journey through our Dream Home:
Birth, 2000: Mira Vista. Theme: European country. Media room: "Tables and chairs double for dining or arts and crafts. The eyes are drawn to a dramatic aquarium. Giant-screen TV and stereo promise hours of entertainment."
2006: Westover Hills. Theme: "Southern Mediterranean, with Italian Renaissance flair." Pool: "The biggest challenge the design team had to overcome was crafting the layout of the waterway … conscious of the existing oak trees."
2010: Colonial, a Dream remodel. Study/office: "The fireplace was brick but has been covered with slate. The wood surfaces and beams are knotty alder, finished to a deep brown. The ceiling is covered with heavy paper that looks like pressed tin."
2014: Montserrat. Theme: California mission and Mediterranean fusion. On the blue kitchen island quartzite stone: "I found an amazing exotic stone, and it feels like it is ocean and sand and water. It's blue, and it has almost what feels like a wave that goes through it."
2017: LaCantera at Team Ranch. "An understated Hill Country contemporary, rich in features but low on pretense, pops up in Benbrook's luxury LaCantera."
2019. Colleyville. "The clerestory windows, rich pecky cypress floor-to-ceiling surround, glass and doors at the entry and opening onto the pool, blonde wooden doors, and neutral color palette set the warm farmhouse mood."