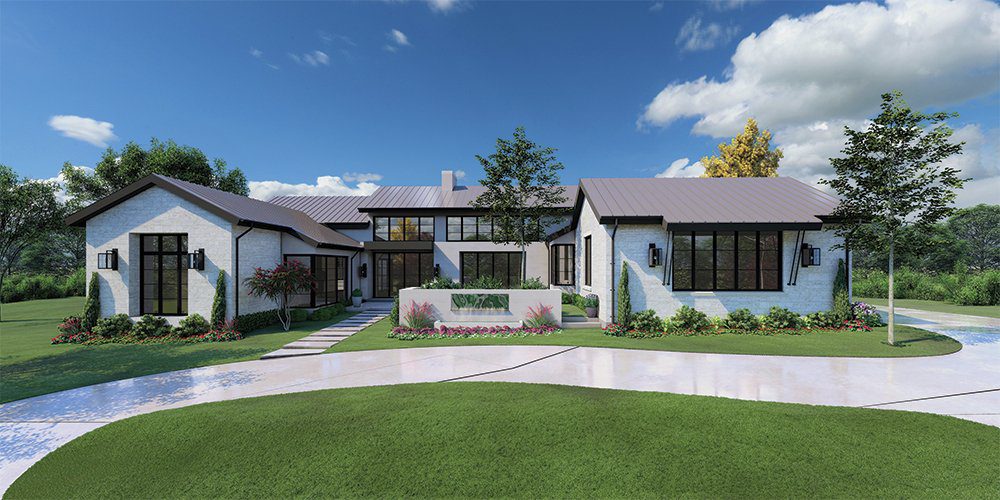 One architect and two home designers have put the master touches on three stunning homes in the new Montrachet community in West Fort Worth.
_____
The 2021 Fort Worth Magazine Dream Street, a follow-up to the inaugural 2020 Fort Worth Magazine Dream Street, is set to feature three diverse and jaw-dropping homes from a triumvirate of local builders (HGC Residential Development, Heritage Homes, Windmiller Custom Homes).
Construction on the homes in the new Montrachet development is underway and slated for completion in October, with the homes opening for touring in November. Proceeds from this tour will go toward a Wish with Wings, the magazine's flagship charity, which grants wishes to local children with life-threatening conditions.
The architects and home designers of each home recently shared their floor plans and renderings, which portray three distinct and magnificent homes. Here, we're going to introduce you to the architects and home designers and take you on a brief tour of the upcoming houses…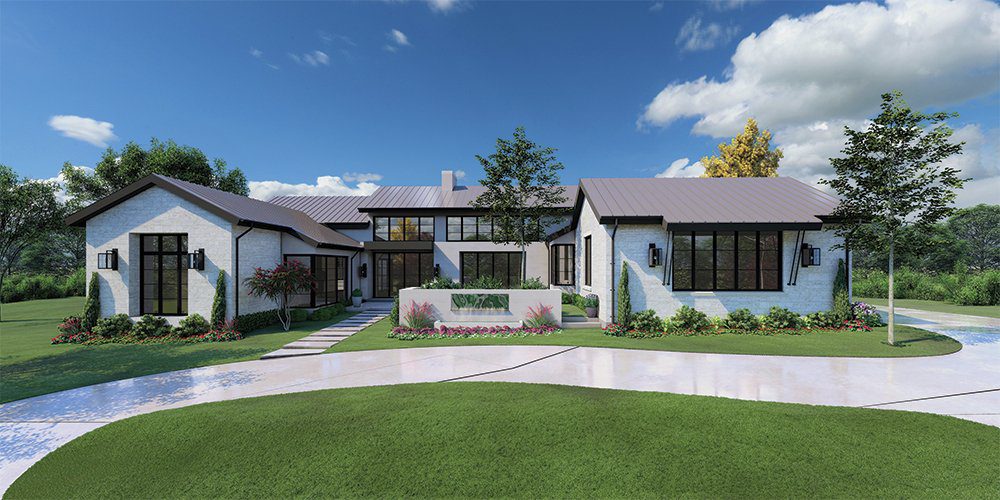 4624 Esprit
Builder: Heritage Homes
Architect: Heritage Design Studio
Style: Texas Regional Vernacular
Stories: 1
Sq. ft.: 5,914
Bed: 4
Bath: 5 ½
Garage: 3-car
About Christopher Hough: Hough has always been interested in design as a general rule of thumb. Originally from Boston, his family moved to Texas just before he entered high school. "I was used to going through houses up in New England and knowing what those were," Hough says. "When I came down here, it just opened my mind, and I realized a house can be anything you want it to be."
Hough graduated from UT Arlington and had an apprenticeship for six years before he started Heritage Design Studio in 2000.
About the house: Texas Regional Vernacular is a modern take on Texas Hill Country. The one-story home will feature large windows, a metal roof, and a semi-enclosed front yard with a half wall that creates an outside terrace. Hough explains that it's a very open and transparent space. You enter the home directly into the family room, get a view of the backyard, and are greeted with a double-sided fireplace.
"It's a little bit different floor plan," Hough explains. "It's a one-story house, which I think is a popular thing. Its game room and study, as opposed to being connected to the rest of the house, you actually have to walk outside to get to the spaces. So, you get to engage with the outside a little bit more."
Interesting element: Front-yard terrace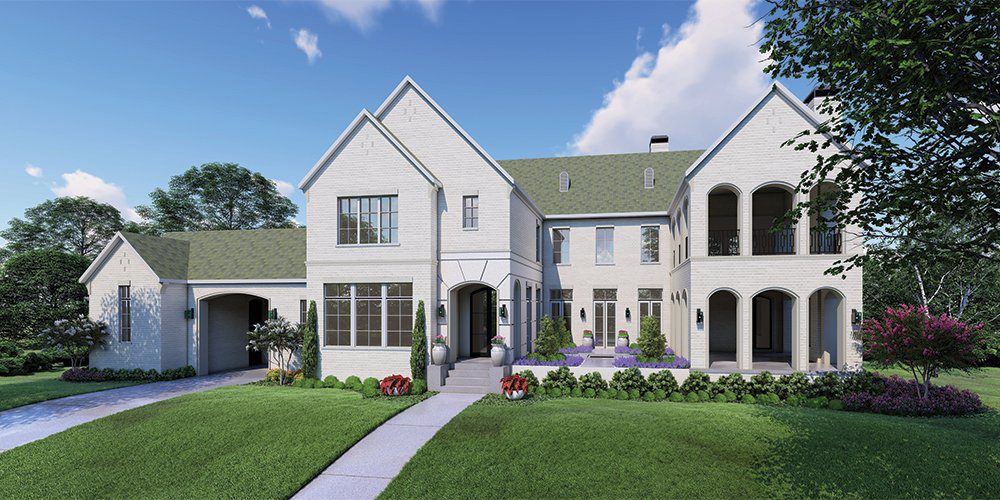 4616 Esprit
Builder: HGC Residential Development
Home designer: Karl Hahnfeld, Karl Hahnfeld Design Group
Style: Tudor
Stories: 2
Sq. ft.: 6,255
Bed: 5
Bath: 6
Garage: 3-car
About Karl Hahnfeld: Architecture and home design runs in Hahnfeld's family, who's been in the construction and design business his entire life. Hahnfeld's father is a retired architect who did a lot of large-scale projects in Fort Worth, and his brother now runs the company, and he has another brother who does home design in Houston. "So, I've been designing my whole life," Hahnfeld says. He started building houses when he started HGC with partners John Giordano and Rob Cocanower in 2000, and he never looked back.
"I just kind of grew from there," Hahnfeld says. "I started designing most of the homes we built, and I eventually formed a separate entity [Karl Hahnfeld Design Group]."
About the house: Hahnfeld focuses on a classic, timeless style. "I like 1920s Park Hill, Monticello, Berkeley — that's the style I admire most," Hahnfeld says. And he's certainly channeling this style with his second Dream Home project (Hahnfeld was the home designer for the 2014 Fort Worth Magazine Dream Home). The home is less contemporary and has what Hahnfeld calls classic lines. The Tudor design, which is rarer these days in home design, perfectly captures the timeless look Hahnfeld says he's going for.
The house also features a bevy of outdoor living spaces, a front porch on the ground floor, and a balcony on the second floor.
Interesting element: Front porch and second-floor balcony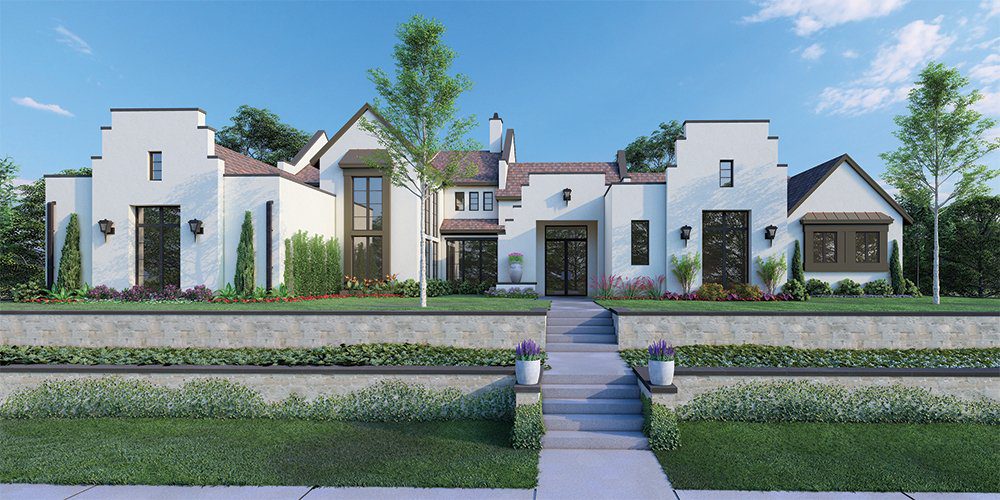 4632 Esprit
Builder: Windmiller Custom Homes
Architect: Michael Costantino, Montabello Architecture and Design
Style: Cape Dutch
Stories: 1
Sq. ft.: 5,456
Bed: 4
Bath: 5
Garage: 3-car
About Michael Costantino: Originally from San Antonio, Costantino graduated from Texas Tech Architecture School in 2004 before moving to the metroplex and working under an architect in the DFW area for a decade. He then formed Montabello in 2018.
About the house: The house is a modern take on the Cape Dutch architectural style, which was popularized in South Africa. According to Constantino, the style can get very ornate with curving details. The house was also designed with entertainment in mind with plenty of outdoor living space and views of the backyard from every room in the house.
"That I know of, there have not been any in this architectural style on the Fort Worth side of the metroplex," Constantino says. "It's something that's going to feel familiar to people, but yet it's going to be strikingly different. It's not something that people expect. We want the house to be something people remember."
Interesting element: Storm shelter
---
Dream Street Subcontractors
Here are the Dream Street partners who've come on board so far.
4624 Esprit
Builder: Heritage Homes
Home Plans: Heritage Design Studio
Interior Designer: Susan Semmelmann Interiors
Fireplaces Interior linear plus inserts: Overhead Door Company of Fort Worth
Countertop Materials (all): Levantina
Flooring (tile, wood, and carpet labor): Galvan Floors
Garage Doors/Openers: Overhead Door Company of Fort Worth
Gutters: Loveless Gutters
---
4616 Esprit
Builder: HGC Development
Home Plans: Karl Hahnfeld  Design Group
Doors Front: Durango Doors
Plumbing Fixtures: Expressions Home Gallery
Appliances: Expressions Home Gallery
Flooring (tile, wood, and carpet labor): Vintage Floors
Flooring (wood & carpet material): Vintage Floors
Flooring Tile (material all spaces): Interceramic USA
Gutters: Loveless Gutters
Low Voltage AV/Security: H Customs Audio Visual
---
4632 Esprit
Builder: Windmiller Custom Homes
Home Plans: Montebello Architecture & Design
Interior Designer: Amira Windmiller Designs
Countertop Materials (all): Levantina
Gutters: Loveless Gutters